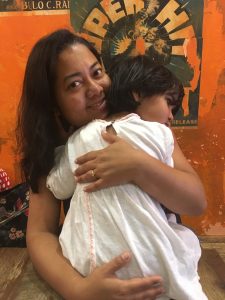 Hello World!
Welcome to Petpujo and Adda hosted at Bong Cravings.
I am Simon, no not SIMON but as in SIMONE. Strange name for a woman you must be thinking! Well my father decided that Simon is a good name I guess from Indian context- uncommon, has a French sound to it. What he forgot to check is the spelling. With every second man being called Simon in the western part of the world, I became forever Mr Simon.
Well you now know, I am Ms Simon- a person, a woman, a lover, a friend, a daughter, a sister, a mother, avid traveller and much more.  And this blog is my world – a reflection of my own journey. I'm the heart & brain behind this blog, Petpujo and Adda . Here I cook, I click, I shoot, I blog and I share.
Born, but not raised in Kolkata, India, now based in London, UK – I am a Bengali at heart and in tummy. I was well fed and looked after by my mother and my grandmother.  After coming to London, that vacuum had to be filled. I took up cooking seriously and started posting the picture of my cooking on Facebook.  I was amazed with the overwhelming response I got from my friends. It was my friends who insisted that I started blogging.
Hence the birth of my blog in 2012.
Through my blog I wanted to create and share traditional dishes that were cooked in my mother's and grandmother's kitchen.- kitchen's based in two geographic sphere, separated by national border and united by language, almost similar culture and food. I wanted to create dishes with exciting flavours and ingredients that are reflective of my upbringing and legacy belonging to Kolkata, Tripura of India and Noakhali of Bangladesh. My approach to cooking is simple, yet enticing with the use of simple, easy to find spices and fresh herbs, dishes that are genuinely eaten in everyday in people's house , dishes that are not changed to suit a particular taste bud ( hence far removed from this thing called 'curry') and I  mostly use recipes which are part my own family for generations.
The journey has been a long one. Since 2012 to now 2017, lot of things have changed. I am a mother of a toddler now. I stopped writing the blog for about three years when she was born. A time, I spent enjoying my daughter who is growing so fast. What I did not realise that my other child, my blog grew too – uncared and unloved by me but loved by strong 3700 followers.
It was time I divided my love a bit- between the two child (actually I have another one at home, a 40 year old child at heart; the inspiring tummy for my cooking, my worst critic, a genuine friend for last 21 years and the push behind the comeback) and cared for the other too.
2017, I started blogging gain. But this time I wanted to take a bigger leap. I wanted my blog to reach to more people who are not Bengali hence the change in name. Well it is still called Petpujo and Adda but hosted in Bong Cravings, which is aimed towards a wider audience due to its English name and easily understandable meaning. Bong Cravings: what does a Bengali Crave for? Food, Adda (conversation) and travel.  My blog would be all about this and more.
I also wanted the blog to reflect my personal changes. Being a mother has made a better person (not that I was not one before, but it certainly made a difference –a good difference), a changed person. I want to share my every day journey of a mother and my struggle, my friendship with my daughter and my learning/growing as person. And the food needs of the little one: There is now a dedicated section of recipes which are child friendly but adults can enjoy too.
There is a section on my travel photography. I am blessed to have travelled so much since I moved to London. I wanted to capture those moments and the memories so that when my daughter grows up she can see us: from friends to couples to partner to parents in various location across the world. She already does that thought and her standard question for all our old photos "Where is N? "
Well, here is to many more such questions and the journey we take together: Mother and daughter.
Thanks for visiting. Stay here and make yourself comfortable
If you have any queries or just want to share anything or for collaboration, use the contact form or you can directly mail me anytime at [email protected]
And as always join me on Facebook and/or Instagram for quicker response.
See you around!