Chottogram er Kala Bhuna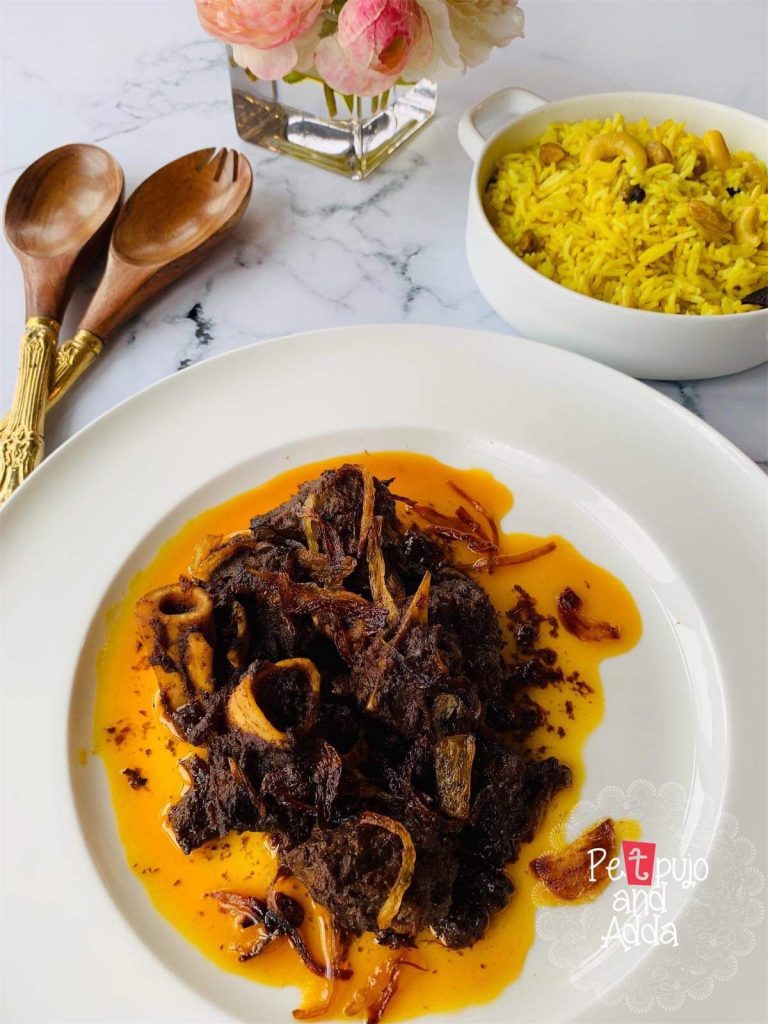 Durga Puja has already started in various places in UK. Last Sunday I had a food stall in one of the pujas in Basingstoke. This was my fifth year with them. Somehow over the years I have formed a bond with them which comes alive every Durga Puja. I calendar in the date from a year before. This year I was meant to walk 10 miles for Diabetes UK on the same day. I regret that I could not go for the walk but I am happiest that I went with my food stall to Basingstoke. I will make up for the walk by December I promise that to myself.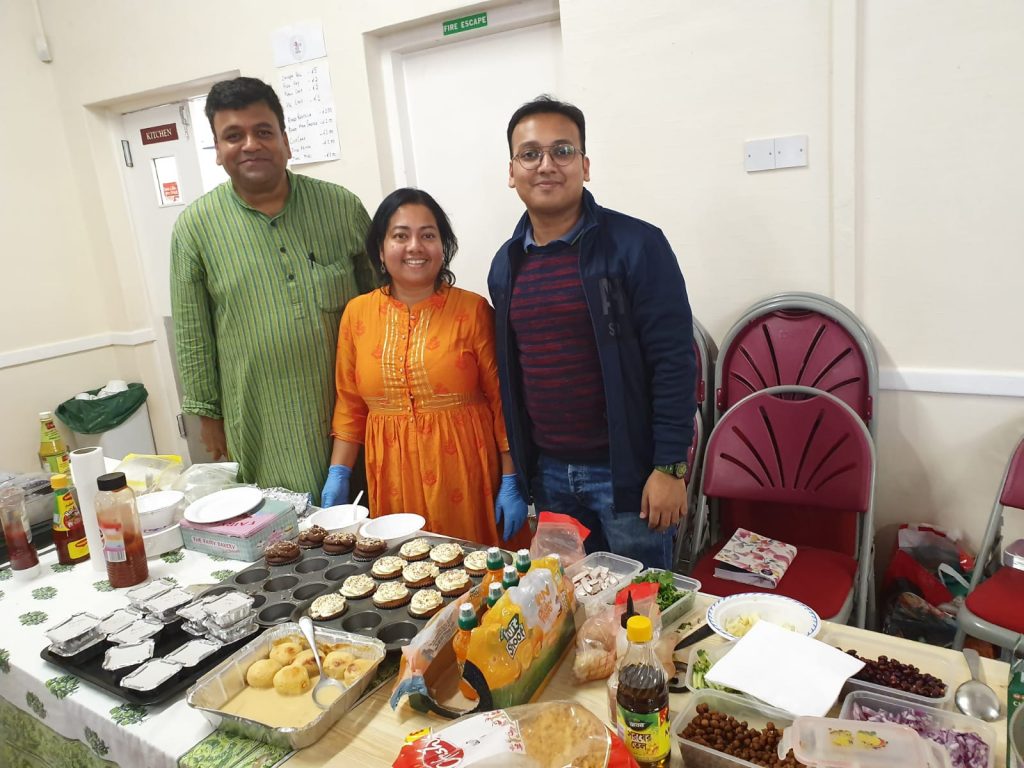 This puja it will be N- my daughter's sixth Puja. There was a time in my life when puja meant just another day. Growing up abroad it was not something I looked forward to in the same way like a person from Bengal would do (there was no puja in the place I grew up). Then I shifted to Delhi where puja meant C R Park and just between R and I and my non Bengali friends. It was more about holidays and new cloths and food and adda. It's only when I started working in Kolkata that I felt puja in a way I feel about it now. Shiuli Phul (night-flowering jasmine) on the pavement in my Kolkata home, the pandal, shoroter akash , kansh phul-everything made sense and came alive. Ever since I have been trying to make up for the lost time. But one life time is never enough for that I guess.
I called ma this morning. She sounded sad. It's my brothers' birthday today but he was away in hospital with a 24 hour long duty. Although she said that she missed everyone at home, I know she misses my brother. But I also know she wished her grant child was with her during puja. Our daughter has bought a different meaning to our life. She is super excited about the puja ( nomo nomo as she calls). Her dresses are all ready and saree is matched with blouse, she is practicing her dance 'Pujo er gondho Esheche' every evening and already decided that I need to let her use lipstick for puja. She is six. I never knew what puja felt like at six and now I know. I am making up for the lost time. I never thought my mother missed me. I left home so early. There was always a bit of anger in me for letting me go so early. For making me deal with life so fast and for taking my home from me. My mother knows and feels my anger –sometimes when I let go of the veil. With my daughter I know my mother missed me too in the same way she missed her grandchild. I am making up for lost time after all. I can hear it in my mother's voice; I hear it in my heart.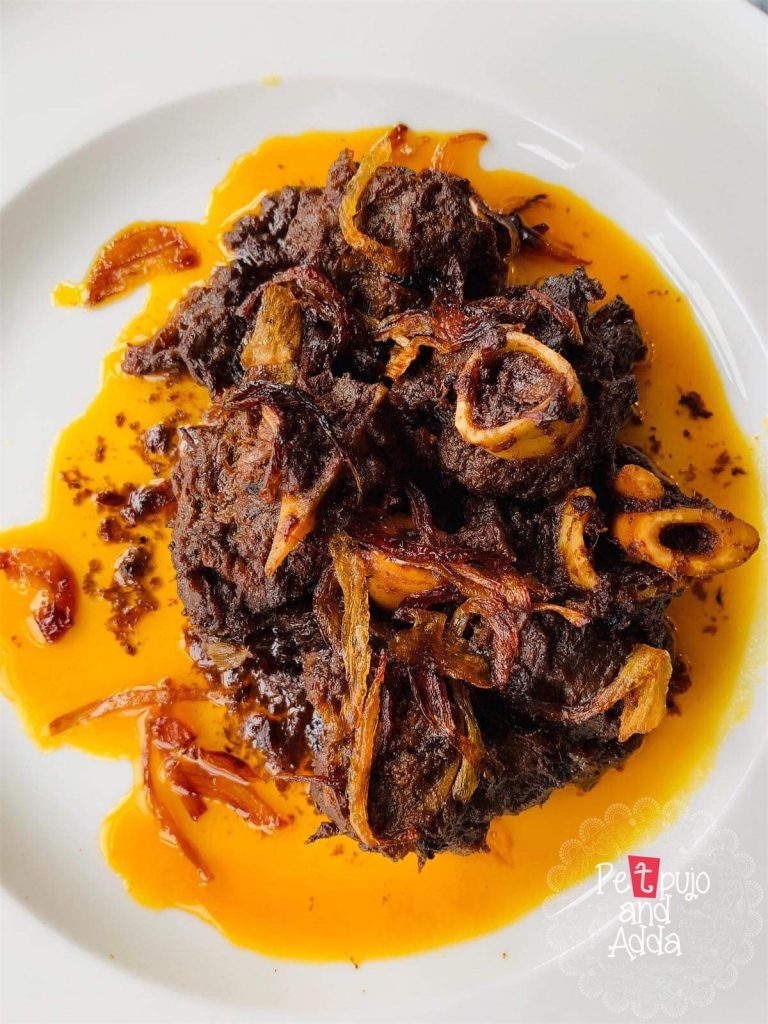 Few weeks back, I had a supper club at home where I cooked a mix bag of recipes from both side of my ancestry. Kala Bhuna was one of the items in menu. Usually cooked with beef this is a famous dish from Chittagong (Chattagram). I do not eat beef and hence cooked with mutton. I had the dish first time in 2007 in Dhaka at my friend's house. Since then I have been meaning to cook it myself but never really came around to making it. The process of making 'bhuna' seems laborious which most likely kept me away from making kala bhuna. But believe me it's actually very easy. Only difference between kosha and bhuna to me will be bhuna is more like frying whereas in kosha it's slow cooking with little added water. Kala bhuna hence required lots of oil making it not so healthy. But hey, we are in festive mood and we will not be deterred to eat good food just because it has 'little' extra oil. I have looked at various recipes on the net- good ones, lovely ones and really really different one. There was one recipe that used dark soya sauce which I found little hard to take as kala bhuna is a very common meat dish of Bangladesh, a very old recipe which has been passed on generation to generation I am being told. If that is so the use of soya sauce which is not so very old import in our cuisine seems unlike. I did not try the recipe but I cooked various other version from the net and then finally liked two recipes which reminded me of the taste I had in my mind. I have checked 'Rumanar rannabanna' on you tube and the recipe from a friends blog called 'Experience of a Gastronomad' for the recipe however I made my own changes to make the process little less time consuming and to suit my London kitchen where not always things are available.
Wash the mutton and strain water. This is very important as you want the mutton to be able to fry on oil but not cooked in water. Less the water release the better

Heat 3 cups of mustard oil and fry 7 cups of sliced onion to make beresta (deep fry the onion till they are golden brown). Make sure that the oil doesn't burn or the onion doesn't burn as we will be using this oil to cook the mutton. If you are unsure then please use fresh oil of the same quantity otherwise the mutton might taste little bitter

Take the mutton in a large bowl and add the beresta, ginger garlic paste, turmeric powder, coriander powder, roasted cumin powder, red chilli powder, black pepper powder, garam masala powder, salt and 1 cup of oil. Marinate the mutton for some time. I did for one hour

Heat the oil that has been used to make beresta or fresh oil (explained before) Add the marinated mutton and cook on high flames for some time and then on medium flame stirring continuously. Till oil starts to release from masala. keep stirring at all time to prevent burning or sticking at the bottom

Continue to cook till mutton is soft and 80% done.It took me about 1 and half hour if not more

In another pan heat 1 remaining one cup of oil. Add the green cardamom, black cardamom, cloves and dry red chillies, allow the spices to splutter. Add chopped onion, garlic and fry till brown. Now add cumin powder. This will make the whole thing turn black

Add this to the mutton and mix well. Cook for 20 mins (understand that time can vary depending on the quality of the mutton so please keep an eye)

Now add Radhuni powder nutmeg and mace powder to the mutton. Add this stage mutton will be almost cooked. Continue to stir otherwise it might stick to the bottom. If needed sprinkle water. Continue to cook for another 50/60 minutes till mutton is tender ( in kala bhuna mutton should so soft that it will come off the bone with a fork but not mushy)

Serve with rice or porota . I served it with basati pulao which is not the usual way to serve kala bhuna
Related
---
---