Koi Macher Kalia( Climbing Perch in a coconut milk gravy) and a mother's Whimsical life
I love my fish. And I love my 'koi Mach' (Climbing Perch) -atleast my parents like to think that. It is only apt that when I am starting to write my blog again after 'trillion' years I start with fish

I feel I need to give an explanation for my long gap. I started my blog in 2012 and after writing for a year I had to stop as I motherhood took priority. I wanted to spend my times with my daughter more than anything else. No time was enough with her. No, I was not tired or exhausted. I was simply awed by her: that little human being, the blob of happiness of my life was the most exciting part. Soon a time came when I had to join back work, she started to be more independent and wanted more time playing her own game then amusing mumma. Not that the excitement was over, but both of us needed to stay apart a little to come back together. She loved her child minder, her friends and routine. I had to learn to love my life and the things that I did before motherhood. Some things I could not pick up. Hmm, not actually, I did not want to pick up and others I longed to start again. Blogging was one of them. So I started.

But I also started my baking, taking orders for food and hosting supper clubs. None of this was planned. They happened and I went with the flow. And I enjoy every bit of it. The blog took back seat for some time. Although at various point in last one year I tried to come back to write the blog but nothing materialised. I could not write. The beginning of 2019 was of course another story. The realisation donned that life is too short. I felt it in my bones to count every hour of my life. To grab life for myself and to give it to myself. To stop, look and take a breath. Smile. Embrace. Love. Once I stopped I realised how much I missed writing my blog. Just as much as I love hosting my supper clubs. I am trying to keep the promise that I made to myself. That I will do what I really like to do. So here I am! Back again
Now koi mach! According to my baba, it seems that I was extremely fond of koi Mach. I am still. Maybe. He would go to Savar bazar early in the morning go get me Koi mach in the size of his palm. His loves to go to bazar every morning, to get things that I like to eat is still alive. Very much part of my home coming! And the story remains the same. He will tell' Dekho ki enechi! Koi mach! Tomar jonney! Choto belai eto boro boro koi mach khawatam tomake . Ekhon ar paoya jai na! shob hybrid er mach. Kintu aj koi gulo puro deshi mach.' He will look at my face to see excitement and I never disappoint him. (Look what I got for you. Climbing perch. I used to get really big ones for your when you were a child. Now we don't get those, most of the fish are hybrid now. But today's one are not hybrid)
I am still fond of Koi mach; not as much though. But I will always enjoy them because it gives my father such pleasure. My choto mesho (maternal aunts husband is called Mesho in Bengali, choto is youngest) will bring them from me. He is another one who will feed to me 15 different fish in a day just to fill his year's quota. I wish I was home more often to be near such pampering souls.
Now that I am back home in UK (have I just called it home!!!? After all these years!!! Well I am happy), I am actually craving Koi mach. Brick lane has some really big frozen one and hybrid of course. They don't taste as good as the fresh one but I am making do with what I get here in London.
I have made Kalia with Koi mach. Now when I say Kalia,I do not mean cumin, onion and tomato gravy like ' Ghoti' ( people who originate from Bengal, India). My Kalia is a coconut milk based gravy. I am bangal (migrants from Bangladesh to Kolkata) and my ancestry is in Noakhali. Noakhali is almost near to coast hence their Hindu cuisine uses a lot of coconut. The recipe is easy one and extremely nice and goes well rice. Hope you like it
Please make the dish which I am sure will be new for many. Let me know if you like it
Wash and clean the fish. If the fish is kind of big in size, cut a slice on the body

Marinate the fish with turmeric, little chili powder and salt

Meanwhile make a Spice paste of chili powder, turmeric and fresh ginger paste

Heat oil in a frying pan and fry the fish. Keep aside

In the same oil, add more oil if needed

when the oil heats up, add kalo jeera ( nigella seeds) and the bay leaf

Add the Spice mix to the heated oil and cook till oil separates

Add the coconut milk and cook till it reduces a little

Add the Salt at this stage so that you are in control of salt

Add the fish and cook. Remember the fish is fried and already cooked . So only cover if you feel that fish has not been cooked. you do not want to over cook the fish

Break the cinnamon and cardamom and add to the fish coconut milk gravy.

add sugar ( if using) and green chili

Cook till gravy has reduced to desired level and oil has separated

Serve warm with boiled Rice
*Most of my cooking are done without really measuring spices. I taste and add things that I feel are missing. So depending on your taste feel free to add spices. Make it your own.
*My mother uses cumin powder to the spice mix if she is cooking for  guests. It makes the dish little rich. you can try that too. I did not use as I like the smell of fresh ginger and coconut 
*frozen Koi doesn't always smell great so you can use more garam masala ( Bengali garam masala is only cinnamon and cardamom ) if needed. but if you have the fresh Koi then you are lucky one!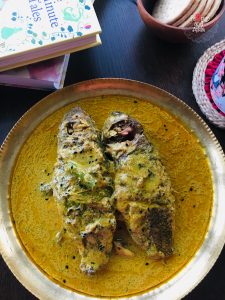 Related
---
---