Langcha – A delicacy of Indian Bengali Sweet by Poppy Dey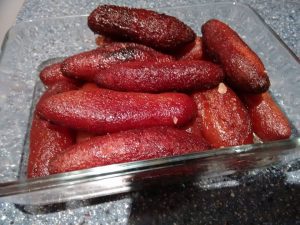 Finally! A guest post by Poppy Di. Those of you active in UK Bengali social media might not really need an introduction of Poppy di. She is very active and popular for her innovative cooking and her unique GIF. For those outside and out side the Bengali group in UK : Poppy Di is one of the few early immigrants from India to UK. She is very active in social media and well known for her cooking, writing, witty remarks, encouragement to new home chefs. She is also involved in various social organisations in UK promoting Bengali culture. She has taught as a part-time lecturer in a college since September 2012. Side by side she has been a part time lecturer with South Bucks Adult Education Centres for 12 years. As a lecturer she has taught Indian dance, Indian, Thai and Chinese cookery lessons, Indian Religious Thoughts, Hindi for the Visitors to India and enjoyed doing a number of Workshops on different subject areas. She love travelling. She has already travelled many countries- western, eastern and far-east countries as well as African countries. According to her "I have travelled most parts of India. When I travel, not only I love to see the places of historical and geographical interests but also like to taste and find out about the cuisines of those places. I try their recipes when I come back home. I love to cook different types of food. I love cooking as it is therapeutic for me"
She has written for many years, many articles, interviews of great Hindi writers e.g. Ramkumar verma, Naresh mehta, Bhawani Prashad Gupta, Mamta Kalia, Ravindra Kalia and Amarkant as well as travel stories and short stories in Hindi in famous magazines and newspapers of India e.g. 'Manorama', Hindi Express, Chic, Amrit Parbhat. There has been a regular reader of her stories in Hindi and in English on All India Radio's 'Yuvavani Programme'.
She has produced and directed plays that were played at Paul Robson theatre and Waterman's Theatre in West London. The play called 'Kafan' and 'Aurangzeb Ki Akhiri Raat' have been highly appreciated by the newspapers like Asian Times and 'Kafan' won the prize. Her Bengali poem with English translation has been published in a multilingual book of poems that has been published by West London's Hounslow Authority. The name of the book is , 'Slivers' and her name has also been published in the list of the editorial board.
She is attached with Give India, Parabas and World Vision charities.
That is our Poppy di for all of you! Now a recipe by her!
The content of this recipe and any write up is all by Poppy di. It is my honour to have her as a guest on my blog!
Langcha – A delicacy of Indian Bengali sweet
Langchas of Shaktigarah are famous Bengali sweet. According to local stories, the credit of lyangcha goes to a sweet maker called Lyangcha Dutta of Saktigarh. They are sold in all over Bengal if not in India. These are served in parties, festivals and weddings. How have these delicious sweet babies got this name, Langcha (Bengali slang word for the person who limps), is an interesting story. Two royal families of Bengal were tied by matrimonial alliances of their children. The bridegroom of Burdwan's royal family was married to a bride of Krishna Nagar of Bengal. When this royal princess gets pregnant she started to crave for these sweets but was unable to remember the name of the sweet as it was not a popular one in Krishna Nagar. Only she could remembers, Langcha as it was made by the Modak/sweet maker who used to limp. So the king of Burdwan brought that man from Krishna Nagar. He settled at Shaktigarah , a part of Burdwan and was gifted a land and other things by the King. So these sweets were his innovation that's why it named after his name, Langcha. So Krishna Nagar feels proud as Langcha was born there but Langchas were made popular by Shaktigarah and flourished here , they are called Shaktigarah's Langcha.
We who have been living in UK for more than 30 years, always found the ways to make not all but a few Bengali sweets at home to satisfy our craving for Bengali sweets. When I arrived in UK's Slough area , some Bengali ladies were making already Rosogollas at home in pressure cooker. So whenever we had meal gathering, some one used to volunteer to make Rosogollas. As I came later than them I started to add milk sauce to those rosogollas and the birth of home-made Rosomalai started here. Then I started making cheaters' Bundiya/Bondey. People started relishing them but not making them except me. We had a gentleman named Charuda(Late Charuda) who was very fond of making Sondesh. Really those were delicious and professionally made. On my son's Annaprashan his gift was Sondesh to the party. So those days we did not miss Indian Bengali most popular sweets – Rosogolla and Sondesh at all.
For these Langchas, I can guarantee you that if you use full fat cream cheese, it will take 20-25 minutes to make. You can make them less than the time if you go to a shop to buy them. Also you will feel happy to have these darling babies freshly made by you at home. Eat them hot /warm, heaven will be in your mouth.
If you are using cream cheese just mix all ingredients from number 1 to number 9 and mix well. Then knead for few minutes. You need more time to knead for chhana/cottage homemade cheese(if you are using this).

Cover and keep aside the dough for 7-8 minutes

Make sugar syrup in a saucepan. Put sugar, water and crushed green cardamoms. Let it boil and when the syrup thickens like Gulabjamun syrup or a bit more than 1 string consistency, switch off the cooker

Now make small balls of from the dough. Put a elaichi-dana or sweet makhana ball in each ball and make a shape of a cylinder as in the photo of Langchas

Heat oil and fry the langachas on medium heat. With a spatula lightly stir continuously, so that langchas are fried evenly. When they get blackish brown put them in warm syrup. Stir them lightly to let them bathe in sugar syrup evenly

Check, if they are soft in all sides, they are ready to eat. If not that soft, put your syrup on very low heat along with langchas for some time

Sprinkle some rose water or Kewra water, tastes divine.
Note: If you think your dough is too wet add some rice flour or milk powder to make the cylinder shaped Langchas
Related
---
---