Bengali Phulkopir Singara -Classic Bengali Samosa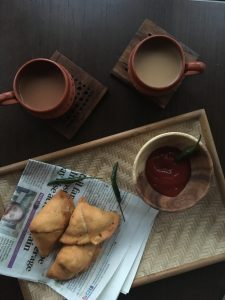 It's pouring in London-perfect time for a cup of masala cha and Singara. Mon ta besh Cha cha korche (Oh I don't even feel like translating it : I feel tea tea in my mind?!!!! Ha ha. Feel like having tea??!!!!! Well you get the feeling right. )
The summer rain in Pinner is almost like monsoon in Kolkata. Beautiful in the word maybe. I don't know. But I can sit on my dining table and keep looking outside for hours while sipping hot tea and eating these singaras. Rain washed trees and sky look so beautiful.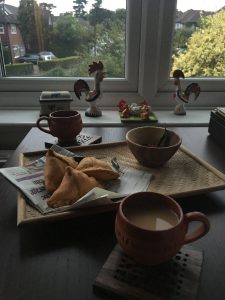 SAMOSA is a well-known snack from North India- everyone in UK seems to know it. Go to any eating place and they will have samosa. I would not be surprised if Starbucks or Costa has them actually. But our Kolkata SINGARA is really unique. I feel Bengali Phulkapir Singara is the best. I tried to take tips from ma and then also searched the internet for the recipe. Not too many people actually make it which seemed a bit odd. But finally made my own. No the recipe is not my own 'authentic' recipe but a culmination of various one and then making my own. The taste seemed very close to the one we get in misti er dokan ( sweet shop in Bengal where Singara is mostly sold from) but cannot be the same. It is very hard to get the same taste as we carry that taste in our heart not in our tongue. Also it is hard to get stale oil, sweating body and unclean hand- the all masala for best cooked road side food in the world. No I am not joking or being sarcastic. I truly believe that and let that remain there. All for food and food for all.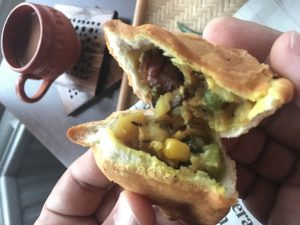 Now Rudra grew up near a sweet shop and he suggested that it is not round roti that makes the best looking singara but the oblong one. And he is right. Like always when it comes to Sweets or anything that get produced from sweet shop in Bengal.
Without much ado, here is the recipe. Hope you like it and make some.. like.. NOW!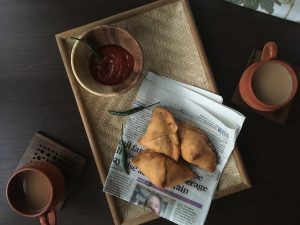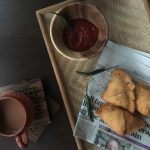 Servings

Prep Time

10

Singara

1

hour
Cook Time
10
mins a batch of 4
Servings

Prep Time

10

Singara

1

hour

Cook Time

10

mins a batch of 4
Servings

Prep Time

10

Singara

1

hour

Cook Time

10

mins a batch of 4

Servings

Prep Time

10

Singara

1

hour

Cook Time

10

mins a batch of 4
Preparing stuffing for Singara
Preparing dough for Singara
Heat oil in a and add Cumin whole. when it releases aroma, add the peanuts and fry a little

Add the cauliflower, green peas and potatoes

Add turmeric and grated Ginger

Add salt and sugar as needed. Add green chilli

Fry until all cooked and oil is separated. Your stuffing is now ready. It is called "pur" in bengali
Preparing dough for Singara
Shift & sieve refined flour, salt, sodium bicarbonate .

Add Kalo Jeera. Now add ghee/oil (this is called "moyan") and mix very well using hands

Lastly add little water and make a stiff dough. Add little more water if needed.but make sure that dough is very stiff. reminder that it will be very hard to kneed this dough. Knead the dough for some times until it becomes very smooth and shiny. Dough should be stiff but it is not suppose to show crack marks if you flatten with a rolling pin.

Cover the dough very well with cling wrap and keep it aside for 20-30 minutes
Make 10 large balls/ leechi from the dough. Shape them smooth and round using both your palms

Take one ball and flatten it on a smooth and clean surface using rolling pin. I realised that making them oblong shaped was giving better looking singara/samosa.

Cut it in half using a sharp knife. Each half makes one singara.

Now stuff the singaras with the pur and joint the edges... brush the edges with little water if needed. see the picture for details

Add enough white oil for deep frying in a deep bottomed pan. Turn the heat to low and make sure that oil is hot but not smoking hot

Add "singara"s and the oil will be heated with "singara"s. Take time to fry them. Slowly increase the heat and fry them to dark shade of golden and crispy

Serve hot with a cup of masala cha ( masala tea)
Related
---
---