Kathaler Chop-Echorer Chop-Jackfruit Cutlets
Vegan January –Veganuary!  The concept has become very popular among many of my friends specially those who are already vegetarians. I will be honest- I struggle to give up fish. Do I not believe eating or being or becoming vegetarian as good concept? I do believe and try much to practise eating in a sustainable way but to give up 'non vegetarian' food totally —-I still have a long way to go.
My daughter pops uncomfortable questions when I do 'meat shopping' –I feel guilty. Sometime I run away and do not buy my weekly meat supply. But again she loves her egg and chicken. She tried to become vegetarian which lasted 3 weeks. Mind it she is 6 years old. We did not eat non vegetarian and supported her. And then she declared she wants to eat 'mutton bhatu' and we started again.
Guilty!
But we are trying to eat as sustainably as possible. We have also reduced our meat/fish/egg/chicken consumptions. I do not think I can give up and become vegan at this stage of life but I try to be responsible. And who knows maybe someday…….
Unlike the popular stereotype , the best thing about Bengali food is we have vast collection of vegan (some vegetarian recipes can easily turn vegan by replacing Ghee with oil) recipes.  When the concept was not even popular we ate vegan food as part of our regular meals.
Bengali vegetarian food does not essentially means a dish with paneer. We have 'chana' but our vegetarian dish mainly revolves around vegetables dishes Like Lau ghonto with mung daal, shukto, labra, chorchori, echor, phulkopi er dalna, badha kopi koraishuti diye, all kind of fried green leafy vegetable to name the few.  Many of our snacks or fast foods are vegan.
Just to keep up with the 'Veganuary' trend, I made some Kathaler chop or Eshorer chop or Jackfruit croquette for a friend's parent in law-who were visiting us for dinner.
Jackfruit or Kathal is now the super fruit in western world! Appropriation –we should learn from West, I tell you. This vegetable or fruit has been part of our life always but we never could market it the way western world have done it – I see advert for pulled jackfruit burger, jackfruit pulao and biryani and what not!  It's time we step up our game and reclaim things that's ours! Kathal is ours! Let's cook it in so many ways only we can do!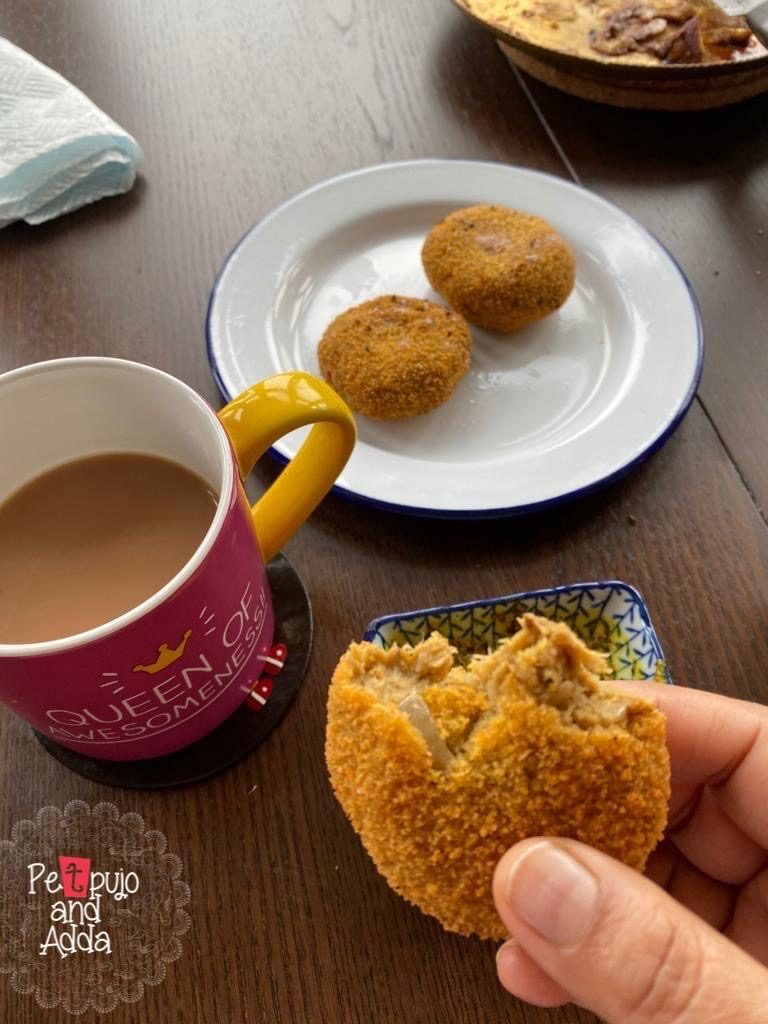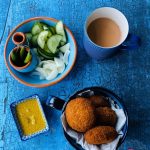 Servings

Prep Time

6-8

people

30

mins
Servings

Prep Time

6-8

people

30

mins
Servings

Prep Time

6-8

people

30

mins

Servings

Prep Time

6-8

people

30

mins
Soak the Bengal gram/cholar daal/chana daal overnight. If not possible , soak as long as you can

Boil till just cooked,making sure it is not mushy. If you have not soaked it then you might want to pressure cook it, Buy make sure its not mushy. Mushy Daal will not work and you will not be able to give shape to the 'chops' or cutlets

Boil the raw jackfruit cubes in a little water along with salt and little turmeric

In a mixture/blender/spice grinder add the boiled jackfruit and cooked Daal and mash but make sure that it is not totally paste. Leave a little texture . Just give one wizz. Alternatively you can do that with your hands too

Heat 2 tbsp oil in a pan, add the chopped green chillies and ginger paste, saute till the raw smell is gone

Add the daal and jack fruit mush, turmeric, red chilli powder, sugar and salt. Cook over a low flame, stirring occasionally

Add the roasted cumin powder, add the peanuts and chopped coriander leaves. Add salt as per taste and cook till all spices are mixed well and it is coming off the pan

Add the garam Masala powder

Taste for salt and sugar and heat balance. Add more or less depending on personal choice

Take it off the heat and cool it in room temperature

Shape the jackfruit/kathal mixture into Chops/cutlets. You have make them any shape you like. I made them like the picture as I find it easiest

Dissolve the cornflour in a little water to form a thin batter

Dip the cutlets/chops, one at a time, into the corn batter

Coat gently with breadcrumbs

Finish giving first layer of breadcrumb coating to all the chops/cutlets. The repeat the process for second layer of coating. It is not needed but I feel then it gives a smooth look and the chops/cutlets does not break during deep frying

Heat oil in a pan, deep fry till golden.

Serve hot with kasundi/sriracha Sauce /sriracha Vegan mayo and onion, green chilli , cucumber salad. And if you can make a cup of masala cha to go with it....Aaaaaaa! Enjoy!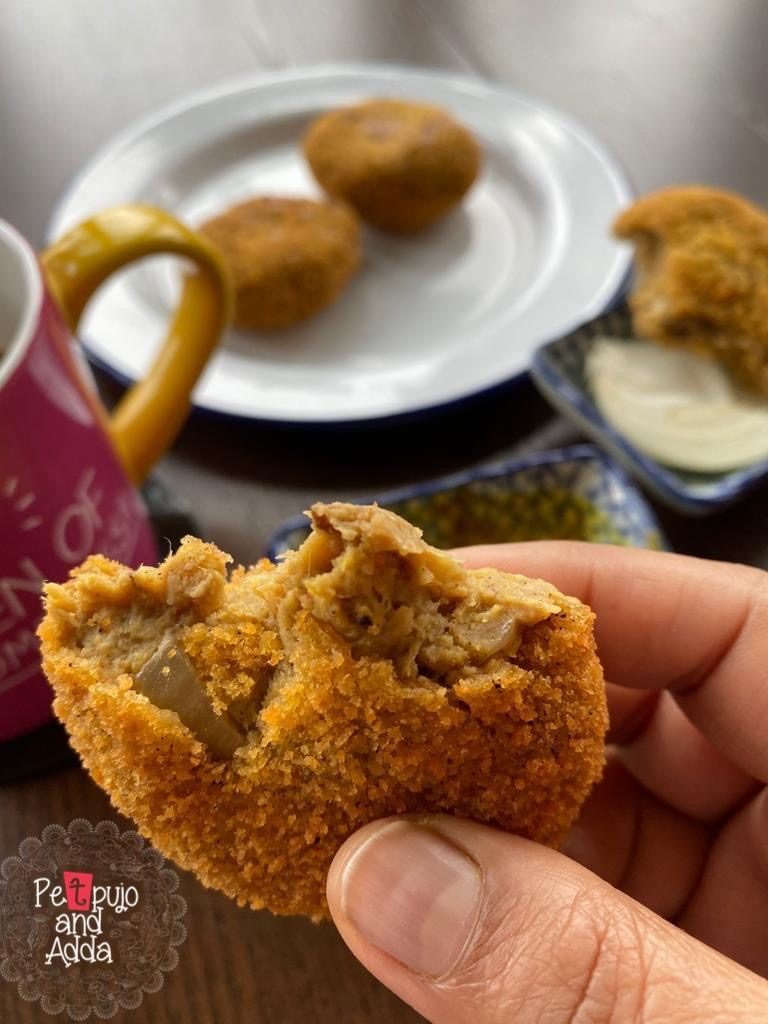 Related
---
---