Gochujang glazed salmon with Miso Udon Soup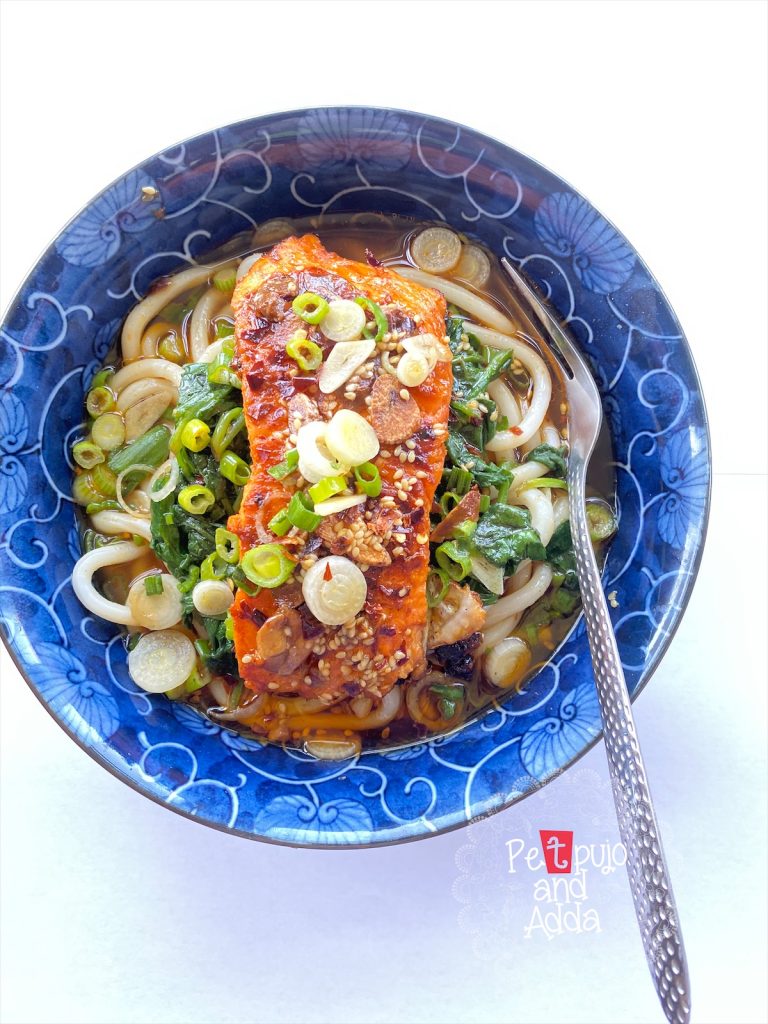 Fluid Time:
This is my first blog post in months. I did have grand plans to write during the lock down. I thought I will write almost every day now that I have time. But……..Time-seems like the most precious of all things now.  When we went into lock down on 20th March 2020, I thought of time as something 'solid' something that I could count, measure, even control-like when I have time and don't have time kind of way. I knew exactly what I wanted to do with this thing called 'time'. But time turned out to be the most fluid of all- with no boundary between day and night. When it started or stopped. Minutes, hours, days, weeks and months all looked and felt the same.  It was one of the most difficult to comprehend.
I missed the routine. The mundanity. The routine which actually defined my time. My two hour journey to work (actually four hour as I come back from work as well, don't I) which I seemed to only talk about with utmost tiredness was my only 'me time'- my time to live in my world (I have an imaginary world in my mind– that's my safe space. Do you have one?). My office 'time' was my sanctuary (Do you find it sad? I don't. I do some amazing, kickass work with some real badass women colleague). The evening two hour with N was my joy. And the two hours after dinner when everyone went to bed was my time to write: my almost favourite time of the day.
When the lock down started- with all the travelling, all the meeting of people and all the working hour gone (or so I thought) I said this is it… finally I have 'time'. Only to realise 'time' is meaningless in this static dynamic state.
I longed to have 'time'.  
Cooking during fluid time:
Ok now let me come to cooking. Like many, eating took over most the 'time' which also meant that I cooked a lot (and gained a lot. Wait!! What do you think I gained? Weight!!  My dear weight). On top of that I decided that I will become the next Instagram diva now that COVID 19 has given us lock down 'time'. I cooked, recorded and posted them with feverish frenzy. Alas, fever only lasts that many days!!!! And then came the 'I hate cooking' and what the hell is Instagram for 'time'. For about a month I survived on ramen and Korean drama (oh!!! the good looking men are a good reason to survive).And then I (my mind) settled! Not in the comfort but in the discomfort……this discomfort is another dimension of 'time' which I accepted. It is hard, and sad, and tiring, and full of anxiety yet full of life and goodness to look forward to as well (I am telling this to myself). And it will be soon over and I will have my 'time' back.
As I post my first blog during the lockdown, I am choosing a recipe that's kind of self-made with ingredients I am extremely fond of. One of the recipes that helped me survive those 'hate cooking' days. It's easy to make, have ample scope to change ingredients to suit ones need. It's a tribute to my noodle soup and salmon love.
Check the recipe out and give it a try.  Most importantly take bit and pieces of this recipe, take the idea and make something of your own. That's the most amazing part of cooking.
PS: I have not used any measurement for the ingredients. So use as per taste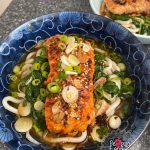 Servings

Prep Time

3

people

15

mins
Servings

Prep Time

3

people

15

mins
1. Cook the udon noodles as per the instruction on the pack
Marinate the salmon with Gachujang, soy sauce and chili flacks

Pan Fry the salmon till the skin is crispy. I like my food well done so it took about 10 mins but if you like salmon pink it should take less time
Boil water. 300ml per head I would say

Add three cubes of 'knorr' chicken stock to the boiling water

Now add white miso soup paste. I have used 3 small packs of 'clearspring' organic Japanese white miso soup paste

Add little say sauce and Add little black pepper .Check for seasoning
Wilt a bag spinach with some soy sauce, garlic and sesame. Set asiide
Sesame, Chili and Garlic crumble
Cut into thin slices of garlic

Now fry the garlic with some sesame and chili flack. Fry until crisp. Set aside
Place the udon noodle in a soup bowl. Make sure the bowl is large enough to hold everything in it

Top the noodle with some wilted spinach

On top the spinach place one serving of salmon

Now top the salmon with sesame and garlic crumble

Add chili flacks in case you want the soup to be hot. I like hot food

Add the cut sprint onion greens

Add heat some sesame oil. Make it really hot but not smoking

Add the hot oil on top of the crumble and spring oil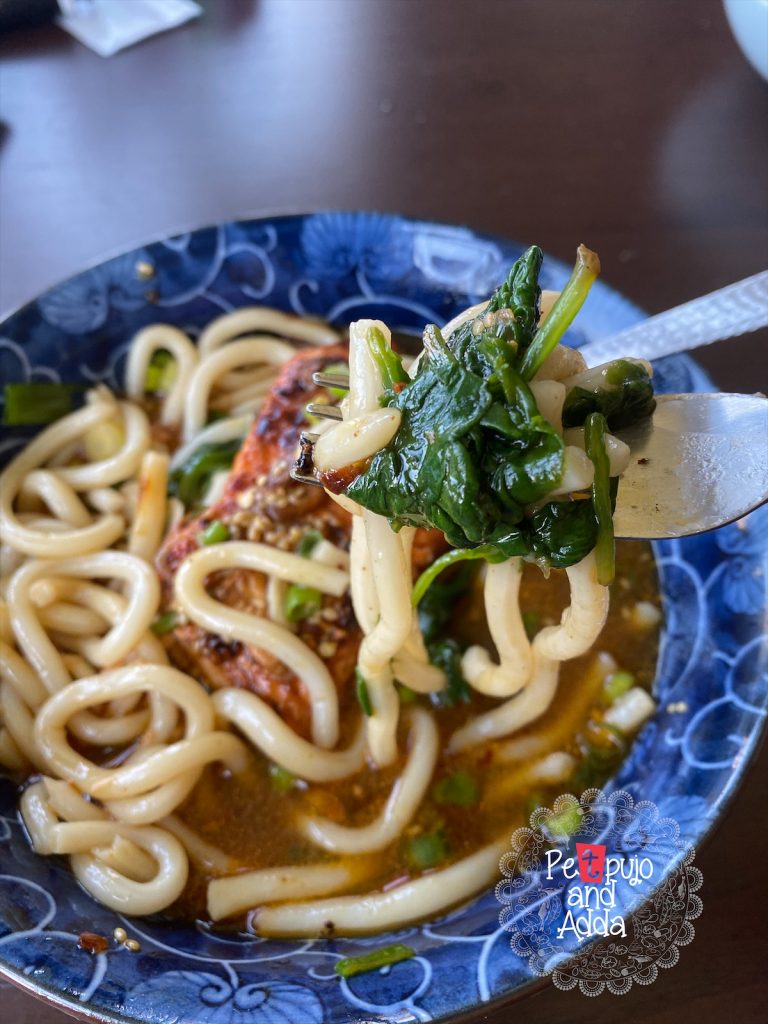 Related
---
---