Kumro Patai Macher Bhaja-Shallow Fried Fish in a Pumpkin Leaf Parcel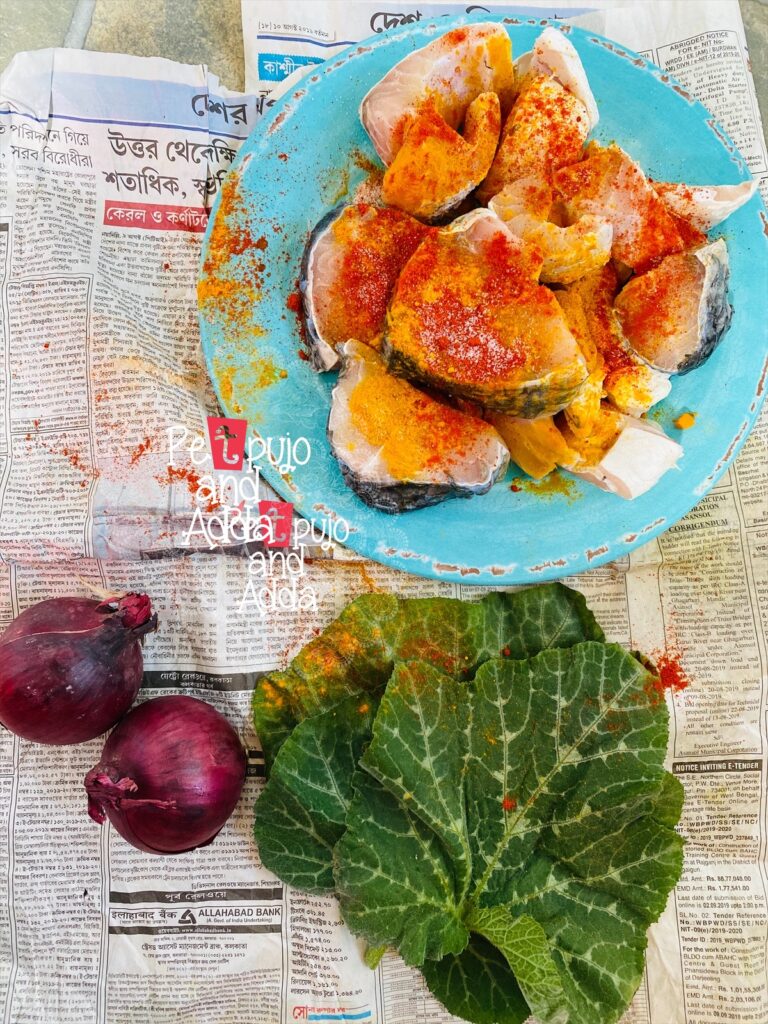 If you are readding this-How have you been?
I am well, thank you. If you are wondering
It's been a while I have written something on my blog. I try my best to be regular on my Instagram and Facebook page. I do update on my food orders and occasional recipes. But my true love: writing randomly ( more like thinking aloud) and creating recipe post have taken a back seat for ages .
I really do hope that I can do this on a regular basis. Like at least one post every fortnight.
I am really hoping that I can make that happen.
But as I write this, I wonder, do people read blogs anymore? Or is it all now on Instagram?
Are we, the blogging generation, old school?
Talking about old school- I get to hear a lot on old school recipes. There is a Instagram tag on old school recipes. Not sure what that mean actually. Is it something we do not cook any longer? Like a lost recipe? Or is it something our modern lifestyle doesn't allow us to cook anymore?
Not Sure.
Old school! Old school!
I am posting a recipe that we call 'Kumro Patai Macher Bhaja' ( Shallow fried Fish wrapped in pumpkin leaf Parcel)
Is this old school?
Again! Not Sure.
Kumro Patai Mach Bhaja is a traditional Bengali way of cooking fish where we make the fish parcels with edible leaves like pumpkin
Its summer in the UK or whatever is left of the UK summer. We are having one of the worst summers. My pumpkin plant had one little pumpkin which didn't survive the rains. I am harvesting lots of flower though and the leaf.
Do you know you can eat all parts of a pumpkin plant? Well that's what we do in Bengal.
For the recipe I have used the young and slightly old leaves. I did not measure my cooking ingredients. So the recipe is by 'chokher andaj' measured by eye.. you know what I mean right?
Hope you enjoy cooking the recipe…and if you are thinking where to get the leaves from, you can also use zucchini or cucumber or any gourd plant leave or even a cabbage to make the same.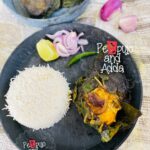 Servings

Prep Time

9

pieces

20

mins
Cook Time

Passive Time

30

mins

10

mins
Servings

Prep Time

9

pieces

20

mins

Cook Time

Passive Time

30

mins

10

mins
Make thin slice of the onions

wash the fish and sprinkle salt, turmeric and chilli powder. Marinate the fish

Add the remaining salt, chilli powder and turmeric to the onion. Add mustard oil

Mix the onion, pressing with hands so that they become soft, making them easy to roll inside the leaf parcel

Place a piece of fish on a pumpkin leaf, add some soften onion mix

Fold the leaf in a way so that the fish is sealed totally. You might need some extra leaf too.

Add little oil on a frying pan. Shallow fry the fish parcels turning them on both sides
Related
---
---