Bangalir Chirar pulao -Flattened Rice Pulao from a Bengali Home-Poha Pulao from Bengali home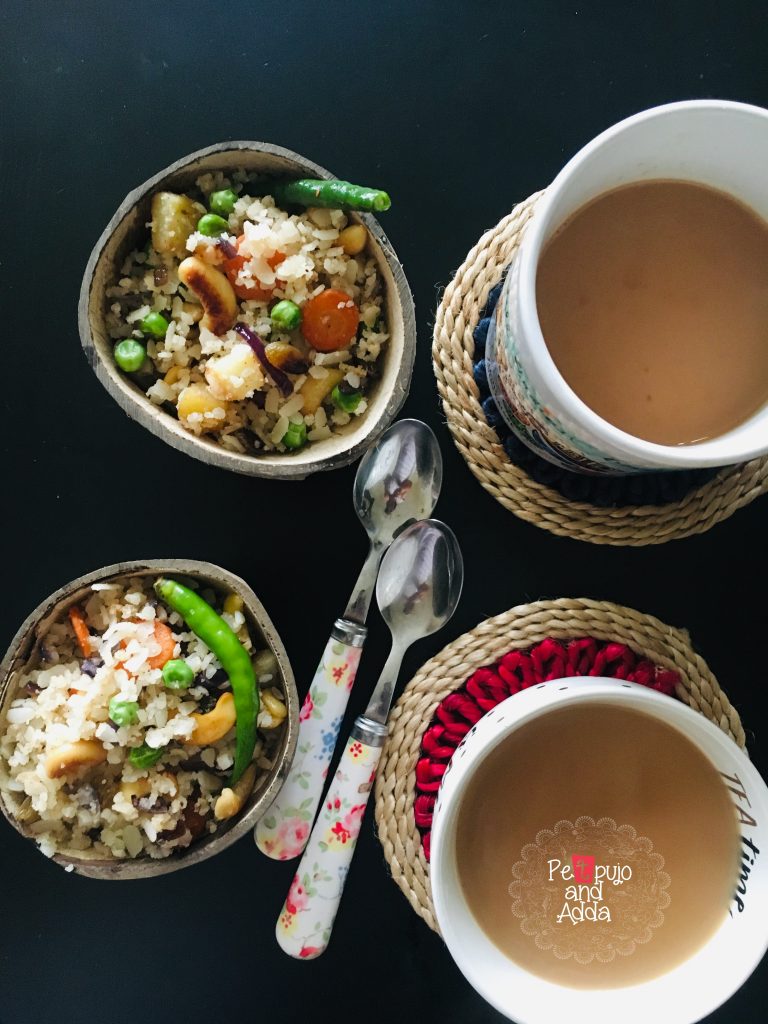 Chirer Polao was a common breakfast or evening snacks in my growing up days. I was a picky eater, which worried by mother a lot. I was thin, small and super active. My mother was always worried that I was not eating enough, running more than my body was able to deal with. Hence any food that came with loads of vegetables, protein and carb in one bowl was her favourite method of torturing me. Yes torture! You heard it right. Food was kind of torture for me as a child. I hated eating-anything other than Rosogolla. My relationship with food changed when I started to live alone in Delhi. I learnt to cook and appreciate ingredient. And then I shifted to university hostel. I craved for food -food that my mother cooked, food that I otherwise hated, food that reminded me of home. But I did not crave Chirer Polao. Our hostel used to serve us Poha-every Saturday morning without fail. How I used to hate the taste…. It put me off anything with chire as long as it was served in the geographic location of Delhi. I loved Chire bhaja in Kolkata though. But that is homemade chira and Kolkata is not Delhi
I don't actually remember when the last time was, I had chirer pulao. I am sure I made it here in London but maybe some time back. So why have I made it today. Well we were in Cornwall holiday. Just the day after my supper club, we packed and headed for our caravan holiday. Along with everything else I also packed my rolling pin. I promised R that I was going to make luchi- Aloo er torkari for breakfast. Of course I did not make it. Am I crazy or what? He is now after my life. He feels cheated of his holiday ' aram' as he had to drive miles, he feels cheated of his 'petpujo' as I did not make him luchi. No, he was not under fed. Not at all. But he did not still get his luchi. So, I tried to make up by making chirer Pulao for breakfast as well as office lunch.
This quick easy and yet amazing Bengali style Chirer Pulao is loaded with vegetable cauliflower, carrot, peas. It tastes mildly sweet with hint of chilli and flavoured with cinnamon and cardamom (Bengali garam masala). Bengali Chirer Pulao is way different from Poha. As far as I can remember Delhi Poha (not the hostel one, a good one. Now that I think, hostel food was not that bad actually) had curry leaves, peanuts, peas, potatoes, onions and tempered with black mustard seed, sprinkled with coconuts and coriander just before serving. It was yellow in color. But the Bengali one, basically the one I am used to eating was whitish in colour, had seasonal vegetable like carrot, cauliflower, peas, with cashew nut and pea nuts, potatoes, oil is tempered with cinnamon and cardamom, tasted slightly sweet. Its almost like rice pulao but made with chira. However, I was checking on the net and found that there are several ways of making Bengali chirer Pulao as well. Some used almost similar method to dramatic one using garlic. Anyway, I am sticking to my memory and making the one I am familiar with. It is very simple, have loads of vegetable, takes about 30 minutes to put together.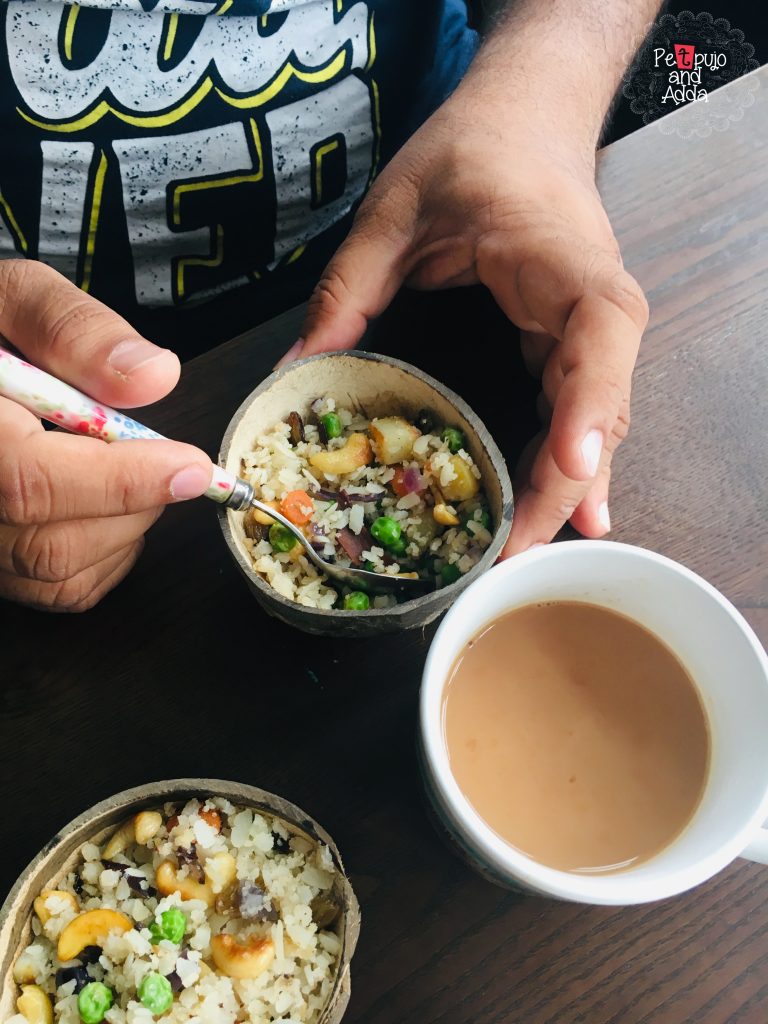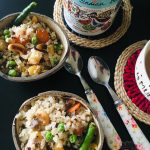 Bangalir Chirer pulao -Flattened Rice Pulao from a Bengali Home-Poha Pulao from Bengali home
Bengali Chirer Pulao Recipe is a different from poha variations that you find in other states of India. In Bengal, chira or flattened rice is a staple breakfast dish and has a mild sweetness taste to it. The addition of raisins, peanut and cashew nut and vegetables to the Bengali Chirer Pulao makes this dish packed with nutrients and a healthy menu choice for the school lunch box, office lunch and breakfast as well.
Servings

Prep Time

4

Serving

15

minutes
Servings

Prep Time

4

Serving

15

minutes
Bangalir Chirer pulao -Flattened Rice Pulao from a Bengali Home-Poha Pulao from Bengali home

Bengali Chirer Pulao Recipe is a different from poha variations that you find in other states of India. In Bengal, chira or flattened rice is a staple breakfast dish and has a mild sweetness taste to it. The addition of raisins, peanut and cashew nut and vegetables to the Bengali Chirer Pulao makes this dish packed with nutrients and a healthy menu choice for the school lunch box, office lunch and breakfast as well.

Servings

Prep Time

4

Serving

15

minutes

Servings

Prep Time

4

Serving

15

minutes
Heat 2 tbsp of oil in a large frying pan or karahi

Add cinnamon, cardamom and bay leaf to temper the oil

Add the potatoes and carrot and fry for a while. Add onion and ginger at this stage too

Once the potato and carrots are little done, add the cauliflowers and peas . Cover and fry

Mean while, wash and soak the Chira ( flatten rice). They should be soft yet firm. The Wash/soak time will depend on the variety of Chira you have.Mine took 3 minutes. Make sure that they are not soggy. Keep aside the washed chira

Meanwhile in the almost fried vegetables add peanut and cashew nut

Season with salt & sugar.

Spread softened chira evenly on top of veggies. Sprinkle salt, sugar ( if needed) and green chilies (if desired) on top

Now take a big spatula and fold everything gently. Do not hurry the process as this may lead to chira becoming lumpy

Serve Warm with a Cuppa or take for packed Lunch
Related
---
---