Niramish Mangsho" or "Bhoger Mangsho (Mutton cooked without onion and Garlic)
My Kolkata visits will almost always have a visit to the temple. No, I am not particularly religious, but my mother is. So is my brother. I rely on them to pray for me. I am sorted from that point of view. However, I do like visiting temples, especially if it is clean and gives me a sense of peace. I like going to Belur Math: vast open green space by the bank of Ganges has its own charm. It is peaceful away from all the noise of Kolkata. Dakshineswar kali temple on the other side of the river sits in contrast: busy, noisy, colourful and the shops food stall outside the temple serving garma garam (hot hot) luchi (it's like a puri but not a puri, an Indian break ) and aloo er torakri ( potato cooked in gravy). I also like going to Sri Sri Kaibalyadham Ram Thakur Ashram in Jadavpur. It is open, clean and no one is after your life to pray. You can be sitting and thinking or walking around or listening to 'kirtan' or praying to the god you believe in. The bhog/prashad (the food offering to god) is amazing there. It seems Ram Thakur was from my mother's house according to my grandmother and there are whole lot of story around him. My mother's family talk about him as if he is a family member (well they claim they are the founder of his math in Noakhali anyway) but that story for another time. Anyway!
Yes anyway, so this time when I went to Kolkata, I met with my mother's favourite 'purut' moshai (the priest). He is a kali bhokto (devoted to goddess kali) and a regular priest in the Kali temple in Behala. He has vast knowledge on almost everything which makes him an interesting company. His knowledge of food from all parts of India is something to be awed about, which drawn me towards him. He knows that I am interested in food, so this time he spoke at length not about Kali Puja or its rituals but all about the cooking process of the sacrificial goat of Kali ghat temple or any other Kali temple. According to him the meat that is cooked for Ma Kali (goodness Kali) is cooked 'vegetarian' without onion and garlic. As the animal is sacrificed to the Goddess and the bhog is prepared with the meat of the sacrificial animal, it is considered as 'Veg' item and it can't be combined or cooked with any non-veg items like onion, garlic or anything that is considered non veg. According to him on the night of Kalipuja or when people are doing kali puja, it is customary in many temples to sacrifice an animal to the goddess. It is generally a goat, "patha" or these days many people sacrifice pumpkin. The meat is prepared, and they are served to the deity in the puja. Since it is prepared to be served to the goddess and then will be eaten as prosad it becomes pure and pious, and hence it is then at that particular moment and night is being considered as pure vegetarian. This is what is call "Niramish Mangsho" or "Bhoger Mangsho. According to him the method of cooking the meat is simple with very few spices but it always tastes divine due to the 'devotion' that goes into cooking the meat (I must admit nothing taste like bhog. So, I actually believe him)
I looked on line and there are many recipes on the same using things like hung curd, almond, yogurt etc. Nothing matched his description. I trusted his recipe and wanted to try it out. He advised two method one use hing (Asafoetida) and other with ground panchphoron (Bengali five spice mix of mustard, cumin, nigella seed, fennel and fenugreek seed. Sometimes we can also use Radhuni (can be substituted with Celery seed) instead of mustard seeds)
I chose to cook with hing (Asafoetida). The taste was full bodied and light; something I did not expect. It is easy to cook and tastes so nice that I am planning to cook it on a regular basis .it reduces the cook time (no peeling and chopping on onion and garlic) which is a bonus for a working mother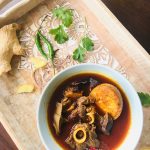 Servings

Prep Time

3

people

10

minutes
Servings

Prep Time

3

people

10

minutes
Servings

Prep Time

3

people

10

minutes

Servings

Prep Time

3

people

10

minutes
Heat the mustard oil in a heavy bottomed kadai and once hot temper with whole garam masala and bay leave

Make a mix of all the ingredients 3-8 (except green chili) in a small bowled with 2 tbsp of water

Add the Hing /Asafoetida powder and immediately add the masala paste in the oi

Now sauté well on low medium heat till oil separates from the side

Once the oil separates, add the mutton and green chilies and cook on high heat for 5 mins to sear the mutton

Then lower the heat and cook the mutton till about 80% done stirring constantly. Add little water as required to prevent from sticking

Add water now to make gravy. This is not a dry dish . add the potatoes

cook till gravy and spice is incorporated and potatoes are boiled

Turn off the heat. sprinkle the garam masala.

Serve hot with white rice.
you can cook it pressure cooker too 
mix all spices and then cook the mutton with spice for 5 mins
pressure cook it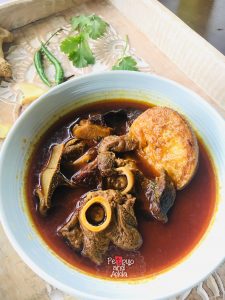 Related
---
---