Chanar Sondesh or Sandesh or Chanar Chhap Sandesh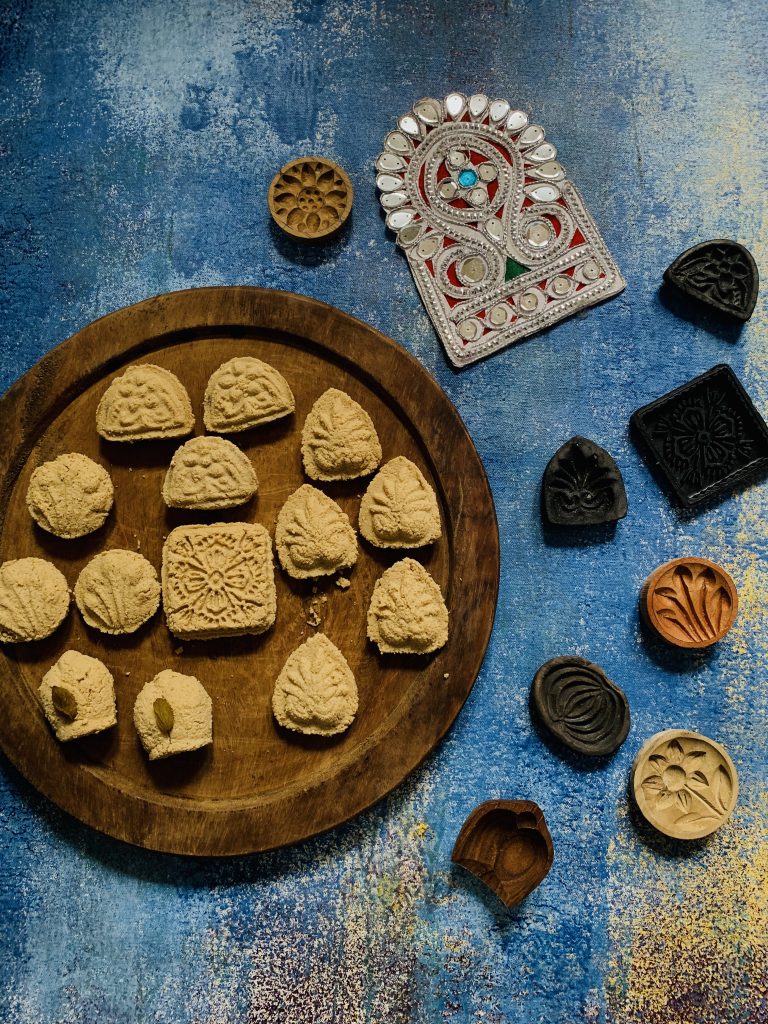 I come and go, isn't it. Life has not been easy. Well, it is not meant to be easy. But there are times when one needs to let it be-let life shape itself. Sooner or later it settles down and gives us the space we need- to see it from a different light. I went with the flow for years and suddenly, yes suddenly I realised all I needed is to take a step back . I did! And I here I am.
Better shaped mentally and physically. I have been better but I will get there. I took a pay cut by reducing a day of work. Which is a lot especially when I really need the money. But what I needed more was time with my daughter: to drop her to school and pick her. To wonder with her, to be irritated by her like a mother can only be, to grow with her. Needed time to watch TV without guilt, to cook and click photo and not to just cook for orders! But cook for myself! To clean and to water my plants. I needed time to do nothing! Nothing at all!
So Friday it is! Friday is my day from now!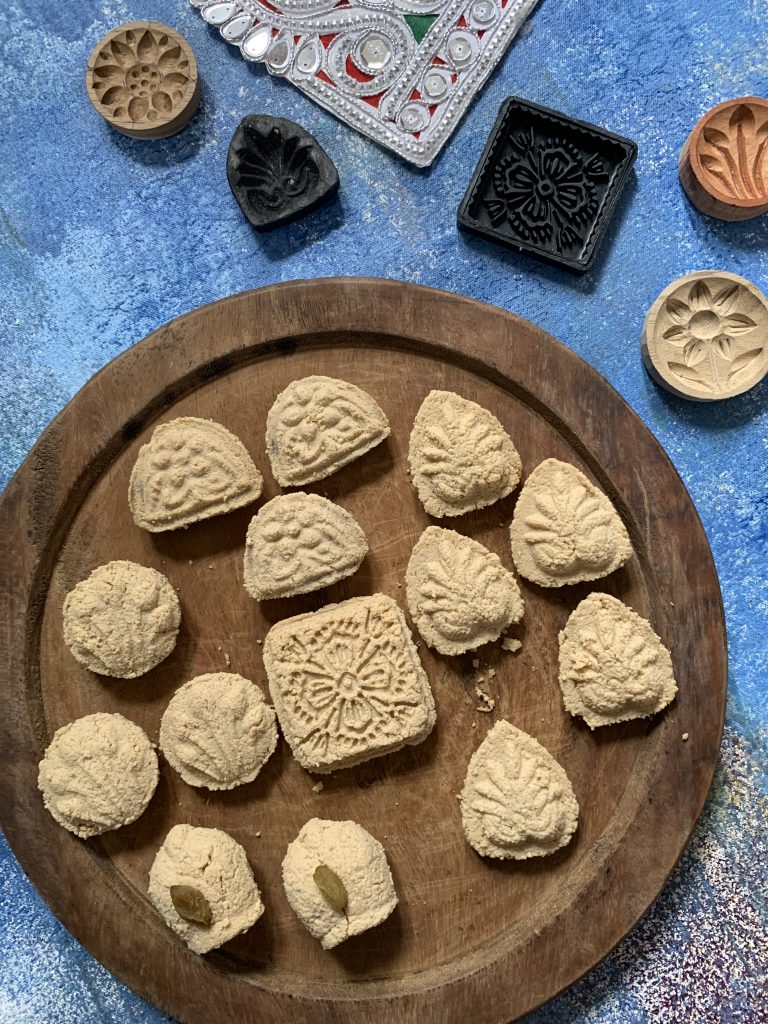 Cooking is my happy space. So once I have done with things that I like more than cooking, I will try to be more regular in my cooking and blogging. So I am starting with something easy. I have done this one sometime before but it is my blog and I am allowed to cook the same recipe twice. Especially when puja is knocking on the door. What is Bengali life without it's misti, right? So here is the recipe for 'Chanar Sondesh' a low sweet sondesh that can be made with sugar or Jaggery or without any sweet at all.
I have used my beautiful collection 'sanjh' or 'chhanp' to make the Sondesh/Sandesh. I have collected them over the time from various places. Some were from Noakhali made by grandmother at home. Those are the cemented one. They were passed on to me as heirloom. Some are wooden from Burnpur gifted by R's brother in law. I happen to just mention that I wanted some and he made a run to the market in one hot summer afternoon to get me these beauties. Some are from Streets of Dhaka by my father. Those are made of plastic and are commonly used for making Pitha. And I have some that are gifted by my extremely talented food blogger friend Sayantoni of ' A Homemaker's Diary'. Who would say I met her for the first time!!! She treated me to lovely tea and breakfast, took me all around Gariahaat to buy props for blog and gifted me with most precious stone made Chhanp. Sayantoni is kind and humane and wonderful. She is all so beautiful and an amazing cook. Please do check her blog http://www.ahomemakersdiary.com/ for amazing recipes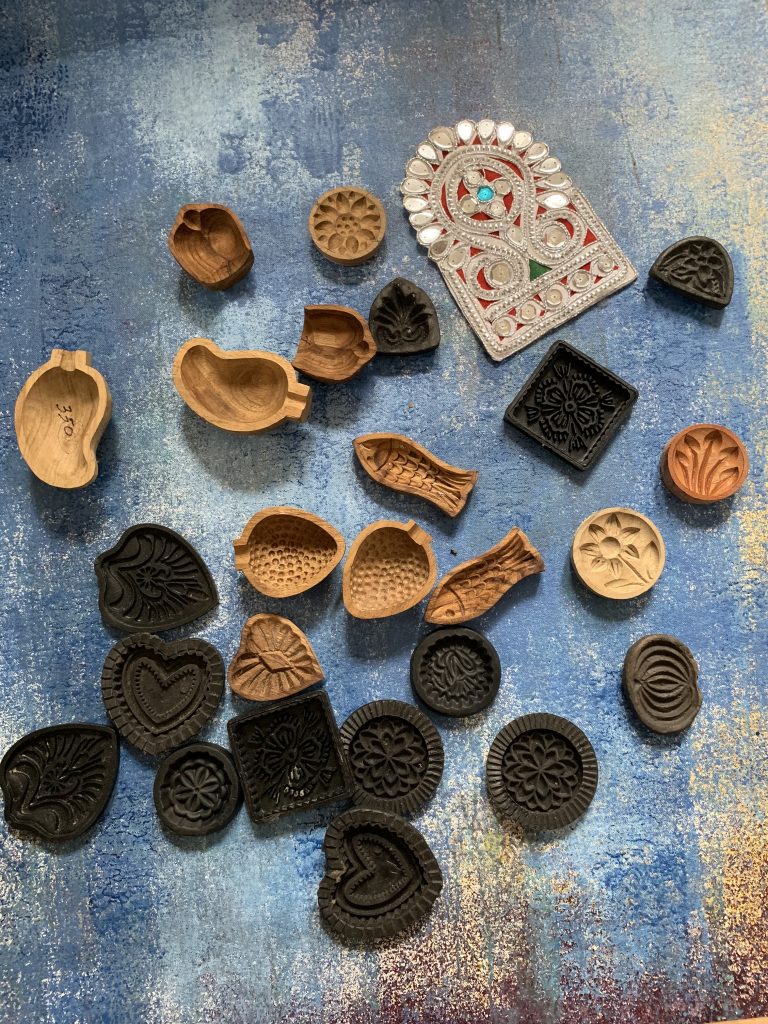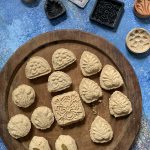 A treat for Pujo. Time consuming but hard to make sweet from Bengal which can be made with very little sugar
Servings

Prep Time

15

Pieces

40

minutes
Cook Time

Passive Time

30

Minutes

1

hour
Servings

Prep Time

15

Pieces

40

minutes

Cook Time

Passive Time

30

Minutes

1

hour
A treat for Pujo. Time consuming but hard to make sweet from Bengal which can be made with very little sugar

Servings

Prep Time

15

Pieces

40

minutes

Cook Time

Passive Time

30

Minutes

1

hour

Servings

Prep Time

15

Pieces

40

minutes

Cook Time

Passive Time

30

Minutes

1

hour
Making Chana or cottage cheese : Bring milk to Boil. Once milk is boiled add the vinegar. The milk will start to curdle. If the milk is not cuddling well then you might need more vinegar or lemon juice which ever you are using

keep on boiling till you see cuddled milk and watery greenish water called 'whey' separating

Pour this in a muslin cloth and wash under running water to get rid of the vinegary /lemony smell. You need to wash the chana well otherwise it will smell later as well

Tie the loose ends of the cloth and hang the cloth to drain all the water. It took me about an hour

After an hour take the cloth with chana and squeeze hard to take out any left over water

Making the Sondesh: Take the chana or cottage cheese on a strong plate. I used a flat steel plate

knead the chana with the heal of your palm till the chana is smooth. You can use the food processor too to knead the chana. This gives a very smooth texture which I do not like hence I knead with palm of my hands

Add the Gur/Jaggery/sugar and knead for some for more time

Take the kneaded chana in a non-stick pan

On very low heat cook for 3-4 minutes. Stir the chana continuously. At this state the chana will be soft but not to worry, they will harden up later when cooled

Use Sanjh or chhanp to give shape while they are still hot. Or just make rounds if you do not have moulds

Serve in room temperature
These will stay fine in fridge for two week. Just close the lid of the container. But nothing  like freshly made sondesh 
Related
---
---