Dhakai kachchi/Kaachi Biryani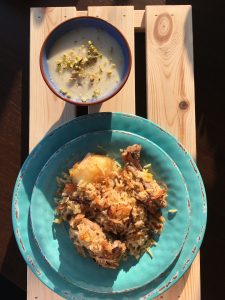 Cooking Dhakai  kachchi/Kaachi Biryani is a matter of love. It is the true child born out of labour.  The effort of making the biryani pays off when friends and family seating across the dining table cannot stop taking about it.
I am extremely passionate about Bangladeshi cuisine due to my connection with the country. My ma always cooks Bangladeshi Hindu cuisine at home which she inherited from her mother. I tend to carry the flag! Well the religion connotation is not so much about religion but about the use of spice. The Hindu house hold in Bangladesh, according to my parents and family,  use less of garlic or onion . But in Muslim cuisine it is predominant. Also the process of cooking certain dish I guess or the predominant use  of certain products, for example use of meat and vegetable, needs totally different spices all together.
Being welcoming and extremely hospitable is a hallmark of Bangladeshi culture.  Visitor drop by unannounced and the door to house and heart is opened with warmth, hospitality and foods. No one asks there ' Cha kaben? Biscuit debo?' (would you want a cuppa ? shall I get you biscuit? ) . It is almost disrespectful.  My mother  faints when she is faced with such questions in Kolkata ( truth be told, people ask actually). And she has lived all her life in kolkata but a very strong Bangladeshi connection still hold as my Didon ( grandmother) still lives in Noakhali. Anyway, tons of mouth-watering food shared by the guests and host over chic-chat, laughter, love: that's the picture of Bangladeshi  household. Bangal's carry that flag in Kolkata.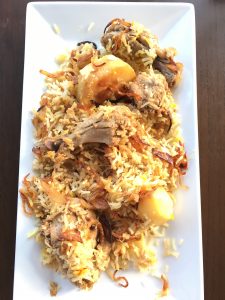 "The term "kachchi" means raw referring to the biryani ingredients being combined raw in layers instead of first cooking the meat or rice separately. Traditionally, kachchi biryani is cooked in clay oven and the cooking pot is usually sealed with flour dough to allow the biryani to cook in its own steam.  The sealed pot is not opened until the biryani is ready to be served"- said a blogger  with a spin.
This biryani is very close to the Awadhi biryani that we eat in Kolkata. However the processes of cooking them are different. Cooking Kaachi/Kachchi biryani needs precision as everything is cooked raw together in a layer, it is also time consuming. Good thing is you can cook it oven too. Traditionally the biryani is cooked with mutton but I am cooking it with chicken today. I am sharing the recipe of which you can sue for mutton or beef but taste would be significantly different. I have taken the recipe from my mother and one of the most respected Bangladeshi chef Siddiqa Kaabir. She has a lovely you tube video of the recipe which you can see. I have also checked the blog called With a spin. I did not change the recipe. If it is good for Siddiqa Kabir and my mother – it is good for me!  (My mother: oh I feel she is one of the best chef I have eaten. Not because she is my mother but because she is good, open, experimental and can cook up a storm with anything and everything)
Hope you enjoy the recipe!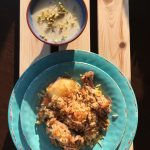 Servings

Prep Time

3-4

people

1

hour
Cook Time

Passive Time

1.5

hour

30mins

8hour or more
Servings

Prep Time

3-4

people

1

hour

Cook Time

Passive Time

1.5

hour

30mins

8hour or more
Servings

Prep Time

3-4

people

1

hour

Cook Time

Passive Time

1.5

hour

30mins

8hour or more

Servings

Prep Time

3-4

people

1

hour

Cook Time

Passive Time

1.5

hour

30mins

8hour or more
Sprinkle some salt on the meat and let stand for 15-20 minutes. Wash the meat and drain all water.

Take all the spice from red chili to caraway seed, grind

Take the pot where biryani will be cooked. Add the meat and yogurt, ground spice mix, garlic and ginger paste and salt. Marinate for anywhere between 30 minutes to overnight

Add about 2 tablespoon of butter/ghee on a frying pan on medium heat.Add some sugar, just a little to the oil before adding the onion

Add very thinly sliced onion and sautee until fragrant and golden brown

Wash, peel and cut the potato in big chinks. Usually into 2 pieces for a medium potato. Sprinkle some salt.Fry the potatoes until slightly golden on the same pan used for the onion

Wash rice and drain all water

Boil 3 cups of water. Add salt.Add the rice

Turn off the stove at the first sight of water boiling (bubble forming on the water) after adding the rice. Rice will be uncooked at this point

Add the saffron to the milk and warm. keep aside

Add butter/ghee to 1 cup of hot water that was set aside

Add the prepared potatoes on top of the marinated meat

Sprinkle some fried onion

Add the alubokhara (prunes), if using

Add half the water-butter mixture

Layer in the prepared rice

Sprinkle the remaining water-butter mixture. Add the remaining hot water in a way that water doesn't go above the rice layer. You may not need to use all of the hot water. Be careful at this step. water should not go top of rice other wise you would have soggy biryani

Sprinkle the saffron milk

Sprinkle some fried onion

Close the lid tightly of the handi and seal it with the dough

Now the final task is to put this on dum or slow cooking. For the mutton to be fully cooked this has to be put on heat for at least an hour. So to prevent it from burning I always put the handi on a tawa/skillet and not directly

Serve with salad, kebab and chutney. Add the hard boiled egg
Note:
Meat and rice ratio is 2:1 is the main mantra
You can cook this in oven too. Heat up your fan oven 180C. Close the lid tightly of the handi and seal it with the dough. Place is the oven for 1.5 hours. I have not tried this method yet. But my mother does. Note that every oven is different hence heating time might be different.
Related
---
---