Lebu Lonka Murgi – Chicken Curry with Lime and Green Chillies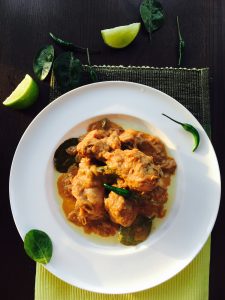 Lebu Lonka Murgi or Chicken curry cooked with lime juice and chilli paste is the recipe for today.
But before I talk about the recipe, I really needed something out of my chest. It's been bothering me for some time now.  My three and half year old is just out of nappy. What-Like for a month now.  Suddenly she is not a baby any more. It's not about me ! No, she is my baby and always will be my baby. BUT she is a baby-she is three and half for god's cake.
We went for a theatre couple of weeks ago- Dog's don't do Ballet! As we were entering, I hear another mother telling my daughter ' Pull your dress down' . My heart skipped a beat.  My daughter has been told be "Proper"
The same thing happens yesterday in the bus when she was again told 'sit properly'.  I was so startled by this woman. Again she is been told to be "proper"
First of all I feel bad that I did not protest on behalf of daughter. I did not protest to say that she doesn't have to learn it now.  I feel sad that her gender and dressing identity is defined for her so early on by everyone around her.  I feel guilty that I just looked on. Was I not prepared? Or was I scared? Or simply did not have the courage to stand for something I believe in.
To my daughter, I am sorry! I really am.
From now on, I will stand up and say -My daughter is a child, respect her childhood. Leave her childhood alone!  I will stand up and say my daughter will not have to be ashamed of her body ever in her life: not now , not ever. I will stand up for you whenever someone tells you to behave properly. All you need to learn is to be nice to others, kind, respectful and generous. Courageous and strong. You don't have to be so called proper!  I will fight it for you my lovely child and later we will fight it together. I, you and your Bubu will fight it together.
To all the parents and to all their children- girls or boys- let's give them a childhood till we can. They will eventually learn things that's sometime beyond us.  Until then all we can do is make sure that our child is happy, healthy and protected. Not ashamed and not  proper: Just a lovely child!
I as a mother and parent , happy that I could write it down. I needed to get it off my chest. I will read it every time I forget to stand up for my child!
You know what, I realised that my blog is my space. It gives me an avenue to talk to myself.  And if it reaches to any others that is a bonus.   I know what I write has nothing to do with food sometime. But does it really only has to be about food.  I am passionate about food but I am also passionate about things that I write about. It is the portrayal of whole of me not in parts!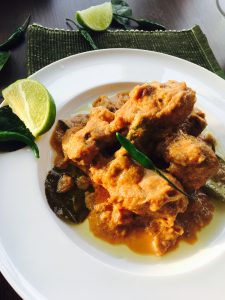 Now here is the recipe for Lebu Lonka Murgi or Chicken curry cooked with lime juice and chilli paste. This one dish I also cook with Fish. I have not used Gondhoraj Lebu today but ideally  that would give a taste which is way more better than just lime. So if you have Gondhoraj Lebu, you might want to use that.
So! Get going! Try the recipe and let me know how you liked it.
Servings

Prep Time

4

people

20

mins
Cook Time

Passive Time

1

hour

30

mins minimum
Servings

Prep Time

4

people

20

mins

Cook Time

Passive Time

1

hour

30

mins minimum
Servings

Prep Time

4

people

20

mins

Cook Time

Passive Time

1

hour

30

mins minimum

Servings

Prep Time

4

people

20

mins

Cook Time

Passive Time

1

hour

30

mins minimum
In a glass bowl bowl take the chicken pieces . I suggest glass bowl as it will not react with the lime juice.I used a plastic bowl which was ok too.

Add half of the yogurt, ginger and garlic paste, chilli paste, lime juices, coriander powder, half of the oil and salt to the chicken. I made a paste of ginger, garlic and chillies together is a blender

Mix it well and keep for as long or as little you like. Mine was in fridge for few hours actually

In big pan, add the remaining oil and heat it up. Add the sliced onion and fry till light golden brown

Add the chicken pieces from the marinade and add to the pan. Fry them on medium high heat till the chicken pieces start to get light brown

Add the marinade ( spice) along with the remaining yogurt to the pan. Stir to mix it well

Add the lime leaves. Cover the pan and let it cook on medium high heat until chicken is cooked.

Check the seasoning, add salt or sugar to your taste. Add the green chillies. Serve hot with plain rice
For this dish , preferable  is Gondhoraj Lebu. I did not have at home hence I used Lime but used the leaf from Gondhoraj Leb that I got from kolkata
Related
---
---