Chicken Skewers/Grilled Chicken Skewers/ Grilled chicken
This is my fourth week into low carb diet. Well, I thought I would fail on the first week or just cheat my way. But I surprised myself. I didn't cheat and I am not craving for my 'Bhat' (Boiled rice in Bengali) which is something to celebrate.
Although I love eating chicken a lot but chicken, fish and high fat is what I am able to eat in this diet: I need something new and easy, to avoid boredom.  I am experimenting and making something new almost all night. So far so good.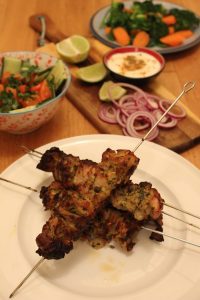 I often make Chicken Skewers — we all love it and my daughter N loves it too. I tweak the marinate each time. This time I added sour cream and cheese to marinate the chicken to make it high fat. Hope this is complaint for someone following similar diet but I am not expert. Hence do not go by me. But hey, you are welcome to try the recipe anyway.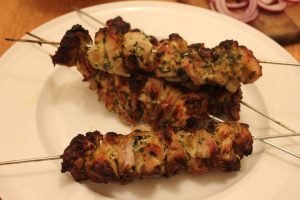 If you are looking for something easy and quick and can be made with whatever you have in pantry then you might want to try this one.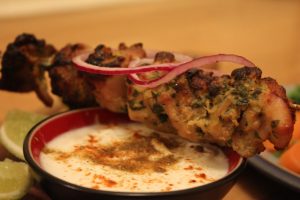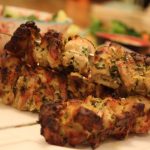 Wash the chicken and drain water properly     

Mix all the ingredients  together with the chicken ( except of salad leaf  and onion of course)

Marinate for 20mins maybe. By the way I didn't marinate is at all. It still came very soft and nice

  Heat the grill or oven should do at 180c ( I have a fan oven )

Arrange the chicken cubes on the skewers ( like the picture)  

Place the chicken skewers on grill pan and grill them. You can also roast them in oven

Grill both sides by turning half way through. Mine is little over cooked as I forgot to take them out on time. But you can take them out when both side is nicely brown or caramelised  

If you see the skewers the becoming dry or getting burnt, baste them with spices from the left over marinate as often as needed during the grilling process

Serve with salad or pitta or as finger food in a party. 
Related
---
---