Chettinad Chicken Burger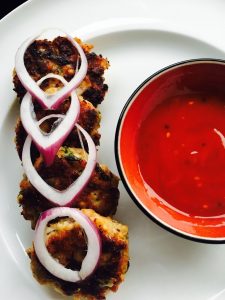 I am having bit of a strange day today. Emotionally stressed to the core. Do you ever get the feeling that you have become silent? You cannot even hear your own mind and heart.
I sometime feel that way. This morning when I got down at Euston station, I wanted to howl my heart out. It is so hard to be a parent especially when you are alone. I wanted my mother to be here and take over. I call my mother and ask her how she was, listen to all her stories. And then she asks me how I was. I hear eagerness in her voice to go back to her problems: heat, expense, arthritis and loneliness. I become silent. All I wanted was her to ask me 'how are you'?  Really ask me! But I have been silent with her for years.
Every day I go back home, R ask me how was your day?  I ask him how was your day. And we say something to each other. Talk about office and the work and the child and what to cook at night. But I am actually silent! It seems easier than talking. Talking has become taxing now.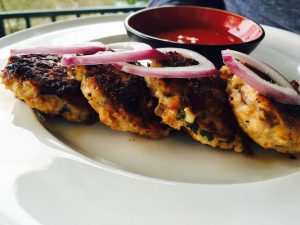 My friends- I have very few in London actually! Well the truth is I have very few in general. I talk with everyone all most, friends with very few. I am not a very easy person to be with I guess. With age I have realised that I find it hard to make an effort to be likable. It is liberating at the same time. But the friends I have- I have become silent with them. I have hurt them with my silence. I have hurt myself too. But silence is all I have. It seems too much to talk. And what to talk about really?
It is so much easier to just look at the TV when I get time-if at all. I do not have to think, say and understand. I do not have to show my vulnerability and insecurities. I do not have to expect something in return. Do you ever get that feeling?
Here I go. Now that I have said it- I see the need to change and reach out! Without fear. At least to the people who are worth the risk!
With that thought let me share a quick recipe for a burger that I made last evening for my snack. It is easy and preparing takes about 10 mins and another 20 mins to cook. Totally healthy for kids too.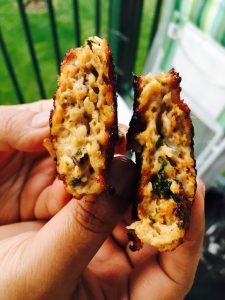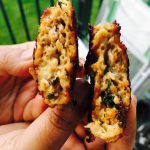 Servings

Prep Time

8

pieces

10

mins
Cook Time

Passive Time

20

mins

10

mins
Servings

Prep Time

8

pieces

10

mins

Cook Time

Passive Time

20

mins

10

mins
Servings

Prep Time

8

pieces

10

mins

Cook Time

Passive Time

20

mins

10

mins

Servings

Prep Time

8

pieces

10

mins

Cook Time

Passive Time

20

mins

10

mins
Mix all the ingredients with chicken

Fry them with both side turning brownish

Serve with onion and yogurt or chilli sauce or sour cream

For recipe of Chettinad SPice check:  http://petpujoandadda.blogspot.co.uk/2016/08/chettinadchicken-roast-i-was-looking.html
Related
---
---