Bengali Chicken Pakora/Fried Chicken croquette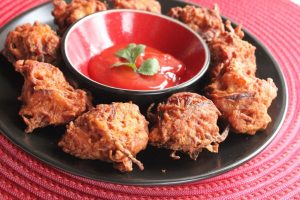 It is a gloomy day in London. Sometime weather plays up with my mood and I get very emotional. N-my daughter did not want to go to her childminder's this morning. She was busy playing with Pritha (a family friend) and I was getting late. At the same time I understood her not wanting to go at all: she hardly gets any one at home other than us. It is a lonely country. Again her friends are her only family beyond us I guess. Like yesterday she could not wait to go -she wanted to show off her sunglasses to Eva. I feel sad for my daughter sometime- leaving her alone, all day. Her staying away from me for so long in the day adds to the gloominess of my heart. Not always but some days-Today.
I get into the train after dropping N. Mind it once she reached the door, she was kin to go in and then didn't look back to say me bye or wait for me to kiss her. It breaks my heart! She is already leaving the nest.
I get into the train with mix feeling. Gloominess, anticipated tiredness of 2 hour journey and the suffocation from overcrowding in train- I try to avoid everything and close my eye. I do that every day (my friend Archi thinks that I do not get to meet any handsome man to flirt on the train as I close my eyes. And that I should not do that. I keep that in mind always and promise to look around. So far badly unsuccessful in keeping my eyes open though)
I almost sleep walk through my station to train to Euston to Victoria line platform. I get to seat! Yes, I did get a seat. And I close my eyes again. When I open I see this face of a child on the billboard tears rolling down, and oxygen pipe from nose-staring at me, directly. It is an ad for an organisation appealing for donation for preventing childhood cancer. I could not hold myself. I tried to look away, tried to not think about it but all I can do is stare at the child. Almost ready to cry. I feel the pain in my heart, almost breathless. The feeling- I cannot express what it was- mixture of helplessness, pain-for the child and all children and the parents who has to go through so much of hardship every day. It is not just diseases but water, winter, snow, war, food, abuse, homelessness and abandonment and what not our children endure. Yes our children- I fail to differentiate my child with others. Do not know how I will react in reality but for now in my heart I cannot. I embrace my baby my N in my mind -no child or parents should ever have to  go through such pain.
And then suddenly my mind goes off to mother's day. And I think about my mother and think about calling her. Maybe I never give her enough credit for what she has contributed to my life. And then I think about me. As a mother I have become a better person. I will give that to myself. I was never a bad person. I have always been generous and a giver. Yes I like me.  But motherhood also made me patience, rational, calm, tolerant and open as a person. I am able to look outside and see the beauty in every small thing around like a Lego house which reaches till sky, pink cloud, time out to the birdy for not listening to come to the balcony for breakfast or the mama cat and daddy dog family whose child is a pig!
And I smile and I look up to see a good looking man staring at me -smiling. Nah…. I lied! It would be too dramatic for my standard too (Archi, I can see her rolling eyes reading this and of course those moral police might think of me as such a character)  
I smile and look up to see that I reached Brixton. Well the alternative is not too bad actually. I do not feel that gloomy anymore.
Mother's day is on Sunday in this part of world.  I love these days of celebration as long as they do not involve spending huge amount on gifts. But just a tiny bit   of pampering doesn't hurt, doesn't it.
Happy mother's day to every one: to a mother, all those who feel like a mother and those who doesn't. I will celebrate the day and will make some cake for myself. I always call my ma, almost every day. But will of course call her on Sunday –she loves all these special days. I like what makes her happy.
I know many of you will like to celebrate the day with your mother and your child's mother or anyone actually. Hence an easy and Laid-back recipe for the day so that you can you easily cook up something special to go with a cuppa without really spending a lot of time in kitchen.
Recipe for chicken Pakora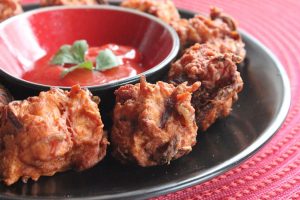 500 Boneless chickens, I used chicken thighs
2 finely chopped red onion (large)
 Finely chopped green chillies (as per your taste)
1/2 teaspoon garam masala powder
1 tablespoon ginger paste
1 tablespoon garlic paste
1 tablespoon finely chopped cilantro
2 tablespoon gram flour (Besan, use more if you feel that the pakora mix is not binding well. Binding will depend on hydration level of the mixture)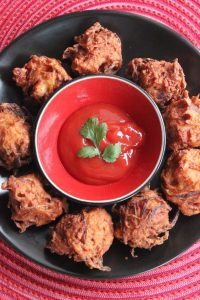 1. Mix all the ingredients together except the oil with chicken.
2. Heat oil and deep fry on medium heat. The colour should be a light golden brown.
Tips: you can fry a few to check for level of salt and spice and add more salt/ spice/chilli depending on your taste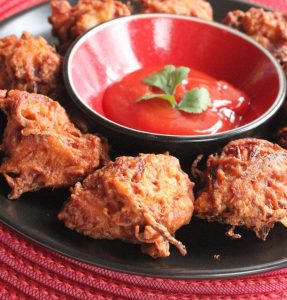 Related
---
---