Easy bread Pizza for kids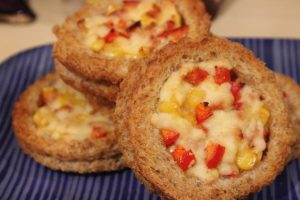 Ever since my daughter started to go to preschool, I am making these snacks more often. N is not a good eater but whenever she eats she eats healthy food. She loves broccoli and carrot and loves cheese. Hence bread pizza is something I make very often. But I just spread all the toppings on a slice of bread (mainly homemade whole wheat) and bake it. She gets her needed carb, protein and veggies
Harini Mukundan, I hope I am writing her name correctly, I came across her recipe of cheese wheels recently in one of the Facebook groups (wish I remembered as would love to follow her). I loved her idea of making the pizza in round shape. They looked so beautiful. She is also a great photographer.
I kept my recipe and changed the shape. Loved the outcome. Most importantly it was a big hit with both my children: the really big one and the really small one.
I made them child friendly just as most of the food in my home. But you can add chilli flakes, boiled egg, scrambled eggs, strips of chicken or even boneless fried fish. Let your imagination fly.
Please give this easy recipe a try, try as snack, party finger food or kids school snacks. I would love to know how it turned. Please tag me, share on my facebook page or share here.
Hope you enjoy making these Breas pizza.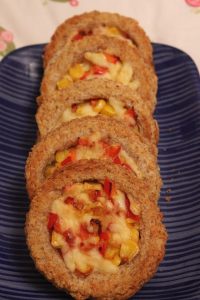 Ingredients


1 pack of brown bread (I had 16 slices)
1 bowl chopped vegetable (I used capsicum, carrot, broccoli, tomatoes, sweet corn and onion)
½ small bowl shredded cheddar (or any cheese or even paneer)
4 tablespoons grated cheese
¼ tsp black paper power
2 tablespoons tomato sauce
Salt as per taste
Enough butter for spreading on the bread


·

       
Take the bread slices in even number as they will have to be joined together
·

       
Using a big round cookie cutter or a sharp lid cut out circles from each bread slice
·

       
Now take half the big round slices and cut out little bit smaller circles using a small cookie cutter. Like making bread ring
·

       
For each pizza we need a big bread disk and a ring of same size
·

       
Set aside the cut breads
·

       
 Now take all the chopped vegetables in a mixing bowl
·

       
 Add cheese, ketchup, paper, paneer if using   and mix well
·

       
 Now spread enough butter on the big round bread disk and the ring
·

       
 Preheat oven at 180C. Take a baking tray and arrange the big bread discs
·

       
 Place the bread ring on each disc. buttered side down so that they stick to one another
·

       
 Now fill the centre with the prepared vegetable cheese filling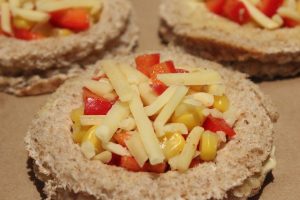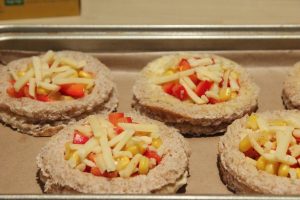 Bake in the preheated oven for 7-10 minutes. If you want very crispy cheese rings you can bake them for little longer. Yu can also brush them with little more butter in case they are not turning brown. But careful not to burn them
·

       
Serve them as snacks, weekend breakfast or school tiffin for chanapona ( kids)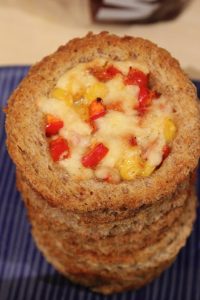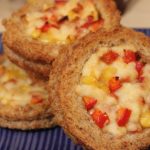 Related
---
---