Chingri Begun Bahar/ Begun Chringri / chingri bata diye Begun/ Aubergine cooked with mashed Prawn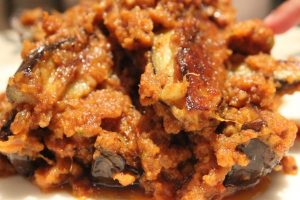 Happy New Year to all of you! Well we are already in the middle of the month of January 2017
It's been a while that I have posted something on my blog. I was away in Kolkata visiting home, spending time with my ma, brother, father and rest of the extended family and friends. And I was creating memories for my daughter. I did plan to write at least two post from Kolkata and a guest post from my mother. But nothing really mattered once I was at home. My heart belonged with my loved ones and I didn't want to share with any one: not even with you. Hope you understand.
2016: well what to say about the year that is gone by! But does a year really matter? Aren't they just chronology? What matters is the memories that we have created, memories that we carry in our heart. I was very sad on the last few days on the year: George Michael died. I grew up listening to him. 
I hated it for many things. I loved it for many things. I lost friends, lost faith and lost my belief in people one more time! Got hurt by friends and family, closed heart to people who mattered and opened to others and paved way for new. I started Magic in the oven: my baking endeavour and started to write the blog again. I started to take order for food and cakes as a hobby. My dotty gave me so much love that it made up for all the shortfalls. I, once again realised that I am capable enough to stay away from things that rotted my spirit.
Yes that's what I took away from the past few months of 2016. That life has its own way of shaping. It takes some and gives more! Like sea waves. And that realisation was liberating. I was less angry and expected less. I could deal with hurt without getting in to the triangle. Once again I realised that only person who could love and give me more than ever is me. And of course my dotty.
I grew a year older, happier and more confident that life is short, cruel, hard yet beautiful.
Happy everyday everyone. Live it!
Now to the point of the recipe. This is a dish I made on 14th of December 2016 with the intention of putting it on my blog immediately. But didn't get time. You know sometime when you hear about a dish, you can feel it in your mouth. This dish is like that. When I heard about it from my mother, who was trying out this one from internet, I knew this is going to be awesome. I have full faith in her. And this was. I cannot say how wonderful this dish is. If any one of you are fan of prawn I personally will recommend this dish. This is a dish from Bong mom's cook book by Sangeeta. My mother tried it and made little changes.
I mixed and match both the recipe and made my own.
I would call it Chingri bata diye Begun or Aubergine cooked with mashed Prawn. Sangeeta di called is Chingri Begun Bahar
Here is the recipe for Chingri bata diye Begun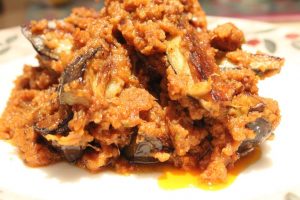 15 medium sized prawn (fresh ones)
1 & 1/2 cups of chopped onion
Green chilli (as per your taste)
1 tbsp Kashmiri Chilli powder
1.

    
Chop aubergine in thin slices.
2.

    
Soak in salt water for 20-30 minutes.
3.

    
Drain water and fry the aubergine and set aside.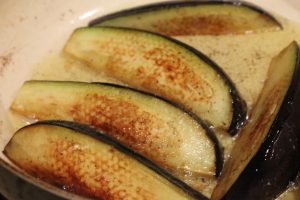 4.

    
Lightly sauté the prawn with salt and turmeric powder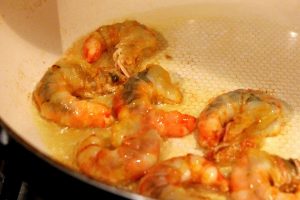 5.

    
Fry the prawns and then make a coarse paste
6.

    
Fry the onions till golden brown.
7.

    
Add cumin, coriander, chilli, ginger and garlic paste to the onion and fry for some time
8.

    
The add the chopped tomatoes and fry till totatoes are mushed up
9.

    
Now  make a paste of the onion and spice mix and set aside
10.

 
Heat some more oil in the fry pan. Temper the oil with 1/2 tsp of Mustard seeds and 1/4 tsp of Methi seeds
11.

 
When the spices start sputtering and getting fragrant add the onion and tomato masala paste
12.

 
Fry till oil separates
13.

 
Add the prawn paste and  fry till oil separates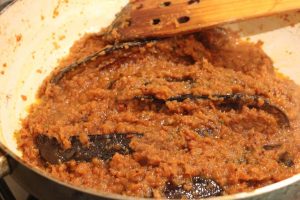 14.

 
Add the aubergine and salt to taste
15.

 
Coo for few minute or until cooked.
16.

 
Garnish with lemon juice and serve with rice.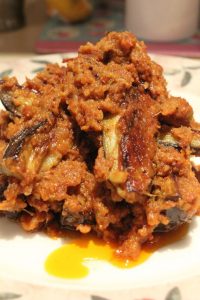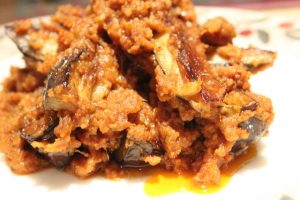 Related
---
---