Bangladeshi Gota Peyanj e Shada Mutton Korma/ Mutton Korma with whole Onion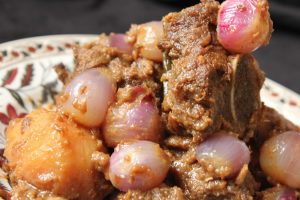 It is 5 in the morning and I am wide awake. My body is still on Kolkata time zone. Not a bad thing actually. I get to have my morning cuppa peacefully before the little one is up and demands every second of my time. Some time I actually like it. A little time to myself. I work almost 24 hours. Yes, you read it correct! 24 hours. Even when I sleep I work as I still breastfeed my little one. Throughout the night I keep checking if her small body is covered properly, if she doesn't stir for an hour I check if she is breathing alright, I touch her face to see that her log hairs which she refuges to cut are not covering her eyes and then I touch her to feel her body against mine, to smell her body! And then there is the older baby boy to look after who is always out of duvet. This is all while I am sleeping.
I went on a mental health training few months back. There was one section on 'looking after self'. One exercise to start the section was to list the works/things/activities we have done from waking up till we came inside the training room at 9am. I listed 28 activities or work between 6am to 9am. Let's not even go in to the work that I do rest of the day. You get the picture I assume about my day.
I work reduced hours on Thursday. I get two hours of free time to myself. I zealously keep that time to me, to spend just the way I want to. I don't take calls, I don't go online, I do not meet anyone, I hate R coming back from work early to spend that time with me and I do not pick my dotty early. That is my time to spend just the way I want with myself. And no, I have no guilt feeling about it. I love it. I deserve it. And I am worth it and more!
Is there any one like me? I am sure there are! Would love to know about your' my time'?  What do you do with your ' my time'
I am using my morning 'my time 'to write this recipe which has been sitting on my hard drive for two months now. Again a recipe from my mother's kitchen. Very easy to make, takes very few ingredients and I received some amazing review about the recipe from two people who ordered it from me.  I will recommend that you give this recipe a change -at least once. And if you are not too inclined to cooking I can always cook for you.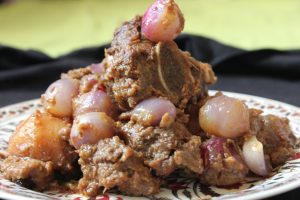 Here is the recipe for Gota Peyanj e  Shada Mutton Korma/ Mutton Korma with whole Onion/ Mutton Korma/ Bangladeshi Mutton korma with shallot. I used potato so that my dotty can eat. but it is not actually part of the recipe.
1/2 cup white Onion paste (white onion is used to keep the colour white/creamish of the dish, but you can use red too. Should not change the taste really)
1 and ½ cup thinly sliced white onion
15/20 small onion whole (shallots can be used as well)
1/4 cup sweet yoghurt (I used homemade sweet yoghurt. Otherwise use sugar with yoghurt as per your taste)
1/2 tsp white pepper powder (use black if that's what you have at home)
1 tsp rose water (optional)
1/4  cup ghee ( optional. I did not use it but my mother did and she thinks that it make a lot of difference in taste. I worry about my heart hence do not use ghee in my cooking. I am all for good food with less grease, well  as much as possible)
4/5 green chilli (I used but my mother recipe doesn't have chilli)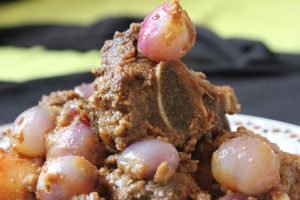 1.

      

Wash the mutton and marinate it with ginger, garlic , salt and lemon juice
2.

      

Keep it aside in fridge for 4/5 hours, if possible over night
3.

      

Heat oil and ghee ( if using) in a heavy bottom pan
4.

      

Fry the sliced onion till they are brown
5.

      

Add the marinated mutton to the fried onion and slow cook till mutton is little tender. Make sure that it doesn't stick to the bottom of the pan. It should not be more that 10/15 mins
6.

      

Add the onion paste and slow cook the mutton. Sprinkle water ( very very little) in case the mutton is sticking at the bottom of the pan
7.

      

Add sour and sweet yoghurt, cinnamon and cardamom and slow cook ( kosha or bhuna process, if you know what I mean by slow cooking)
8.

      

Add little water and cook it till mutton is tender
9.

      

Add rose water ( optional) and green chillies (optional)
10.

  

Skin the white small onions and add to the mutton. Cook till they are tender yet retains shape
11.

  

Serve with white pulao or rice
12.

  

This dish compliments a dinner/lunch where the menu has a spicy item, as this is mild, aromatic and textured.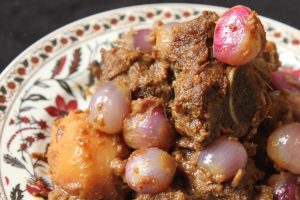 Related
---
---