Narkal- Doi- shorshe Ilish Bhapa ( Steamed Hilsa in Coconut -mustard-yogurt gravy)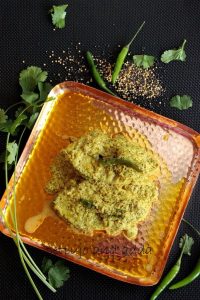 I had a lot of thing in mind to write about. But my daughter is going to be home soon. And I want to be with her when she is back from her child minder. Dilemma of a working mother.
But hay! I am not leaving you high and dry . Here is the recipe for one of the best fish on earth. Ilish or Hisla. The fish no Bengali can resist. The silver shiny fish is the king of all. Taste, texture, and flavour nothing compares to it. So for today's special dinner, I made a very simple but traditional hilsa recipe, Narkal- Doi- shorshe Ilish Bhapa/ Steamed Hilsa in Coconut -mustard-yogurt gravy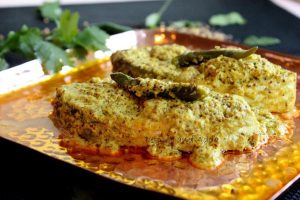 The ingredients are very simple and easily available. Fresher the fish, tastier will be the dish. but living in UK, i had to do with frozen one, which didn't taste bad either. The recipe calls for black and white mustard paste. To make black and white mustard paste, soak the mustard seeds for at least an hour in water and grind with a pinch of salt and green chilies.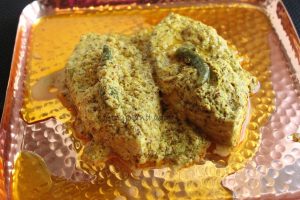 6 pieces Ilish/Hilsa Fish
4 tbsp Mustard (mix yellow & black mustard seeds in equal proportion)
4 table spoon Mustard oil (I was extra generous. I love the smell of mustard oil)
Few slit green chilies (as per taste)
1.

    
Soak the mustard seed for 1 hour ( 20 mins minimum)
2.

    
Mix green chilli, mustard seeds and coconut together
3.

    
Make a paste in the blender
4.

    
Immediately pour the mixture and add some salt (you can blend it with salt. I avoid adding salt in the machine )
5.

    
Beat the yogurt till smooth and mix it with the mustard mixture.
6.

    
Mix turmeric with the mustard and yoghurt mixture
7.

    
Add half the oil with the above spice paste
8.

    
Rub  little mustard oil and salt on the fish
9.

    
Pour the spice mix on the fish and marinate is well
10.

 
Rub little oil on a frying pan
11.

  

Arrange the fish and pour the entire

Coconut -mustard-yogurt masala paste on them
12.

  

Sprinkle some more mustard oil and arrange some more green chilli for aroma
13.

  

Now cover the pan and cook it on very low flame
14.

  

Cook for 15/20 mins or till oil separates.
15.

  

Serve with boiled rice and Gondhoraj lebu!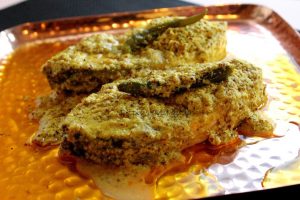 Related
---
---