BHOGER KHICHURI -NIRAMISH BENGALI MOONG DAL KHICHDI – PUJA SPECIAL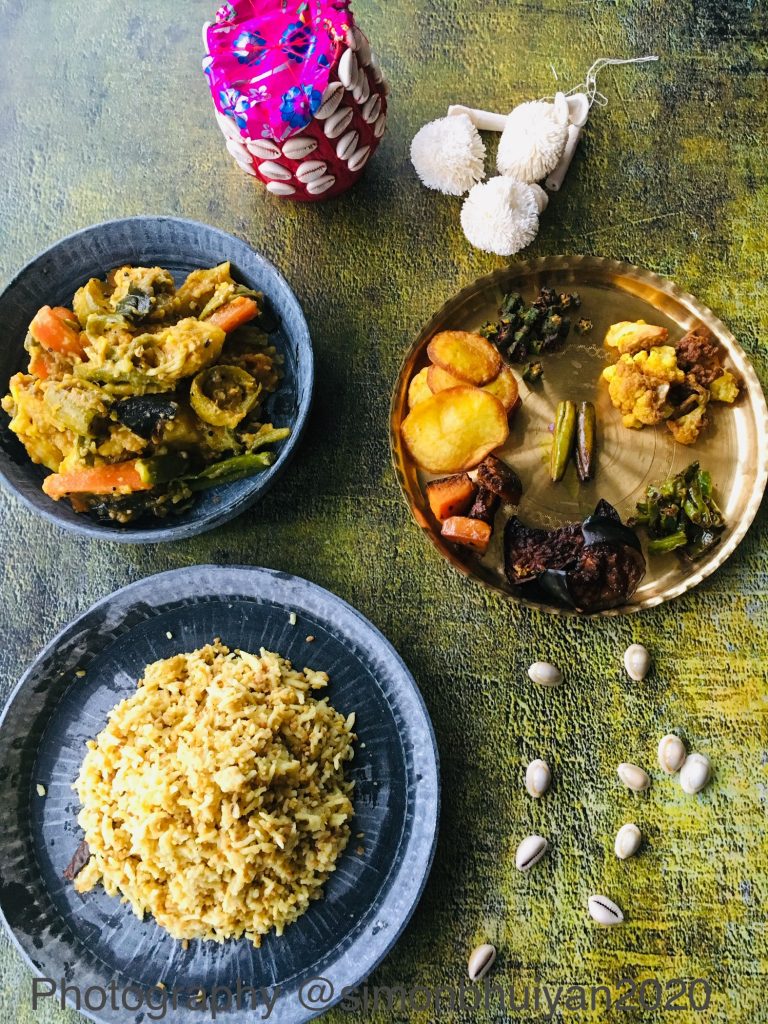 BHOGER KHICHURI -NIRAMISH BENGALI MOONG DAL KHICHDI – PUJA SPECIAL. Photo from 2020
27th January 2020: Updating another of my blog post from 2012. It took me this long. This long! But I had to do it sooner or later. Time on hand seems like the most precious for me these days. That I get time to breath seems like a miracle. But Saraswati puja is just round the corner so I could not but stop thinking about making 'Bhoger Khichuri' and looked up for the recipe. Oh yes! I do that all the time if I cannot find my ma on the phone! Ma is happy with the recipe I use … I can strongly recommend this recipe. Here is the recipe from 2012…..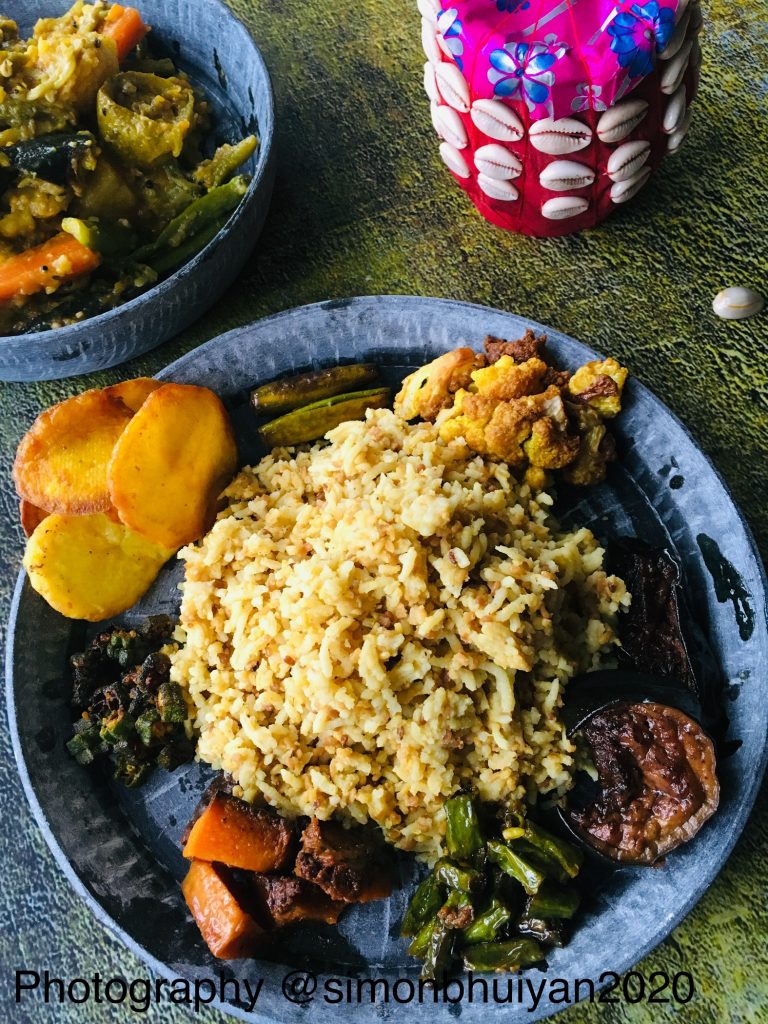 In my house, we usually make two kinds of khichuri/ khichdi- one that is little runny and with lots of vegetable and other one little fluffy like Pulao and without vegetable. The runny khichuri which we call 'Patla khichuri' will be made on a rainy day and days when my ma is not in a mood to cook something nicer. We would eat it with something fried like an omelette, fried potatoes, fried chicken etc. The fluffy khichuri which is  also called 'Bhuna khichuri' is made on occasions like puja for offering or 'Bhog', as lunch on a special day . When it is cooked for puja, it will be accompanied by fried vegetable always in odd number, so like it will be accompanied by 3 or 5 or 7 kind of vegetable fries. Usually potatoes, pumpkin, aubergine, pointed gourd, okra, sweet potatoes, kakrole (Teasle gourd) etc are fried to eat with 'Bhoger khichuri'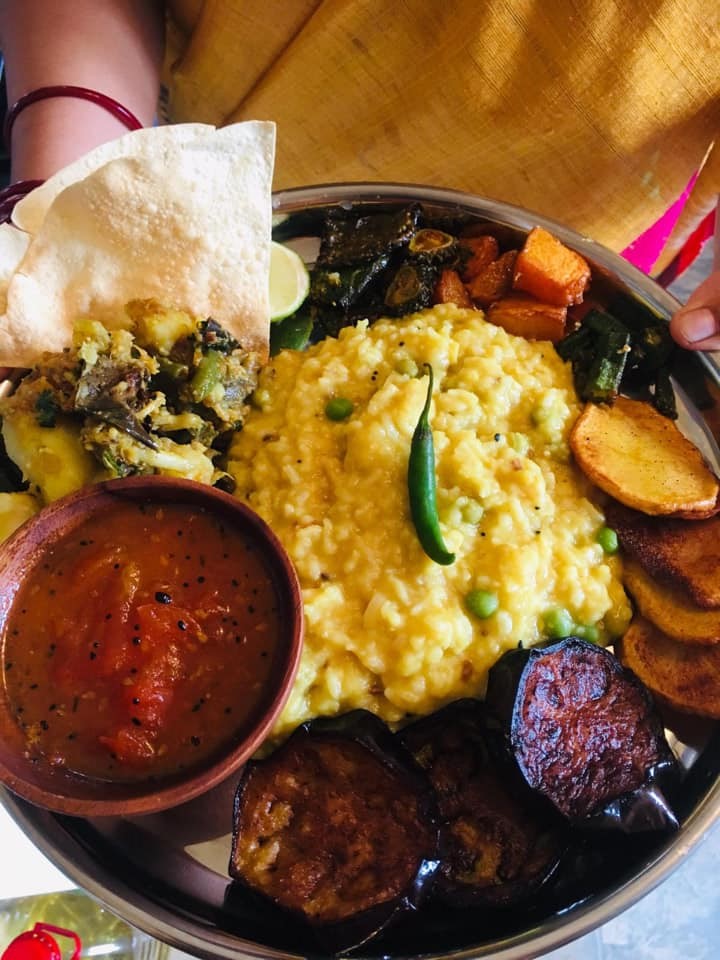 Bhoger Khichuri  and Bhaji from Saraswati Puja 2019
Bhuna Khichuri for puja is cooked without any onion. But when Bhuna khichuri is cooked for other days one can add onions too.When it is cooked to eat on special lunch for mortals like us ( not goddess) , it is accompanied by egg dopiyaja, chicken kosha or mutton kosha, fish, tomato chutney and the list can go on.
Photo from 2012 Durga Puja
Today I am making Bhuna khichuri and this version of the recipe is made for offering or 'bhog' is my house. Puja or no puja, this preparation of khichuri is something that I have not had anywhere other than in my family. Maybe it is a very Bangal or Noakhali thing. I do not know! All I know is I like this one for its rich texture and flavor. Add few leaves of tulsi pata (Basil that is used for prayers in Bengal not Italian basil though) and it smells like puja ( Just in case you are preparing for any other day but want to have the smell of puja- that 'pujo pujo gondho'.. only a bengali can understand the feeling!
If you are searching for a recipe of Labra or Panch Meshali Shobji, search no more. Here are the link to the recipes
Servings

Prep Time

4

people

20

mins
Servings

Prep Time

4

people

20

mins
Servings

Prep Time

4

people

20

mins
Servings

Prep Time

4

people

20

mins
Wash the rice and soak it for 10 mins

Dry roast the Mung daal until they are slightly golden and releases nutty flavor

Wash the roasted mung daal and keep aside

Heat oil in a deep bottom pan

Add bay leaves, cinnamon, cardamom, red chilli

Fry until you can smell the cinnamon and cardamom and Bay leaf

Add hot water ( I usually add 1: 2 ratio of rice and water)

When the water boils, add the mung daal and Salt

When the mung daal is half cooked add the rice, add Ginger, turmeric, Cumin powder and chilli powder if using

Cover and cook on low flame. Keep stirring so it doesn't stick to the bottom. If needed sprinkle little hot water

When almost cooked add the green chilli and add the ghee. Sprinkle little sugar if using

Cover and let it dry and become fluffy

Serve with panch meshali sobji ( see blog for recipe)
Note: Add the tusli leaves and cover, it will smell like pujo er bhog if you are cooking on any other day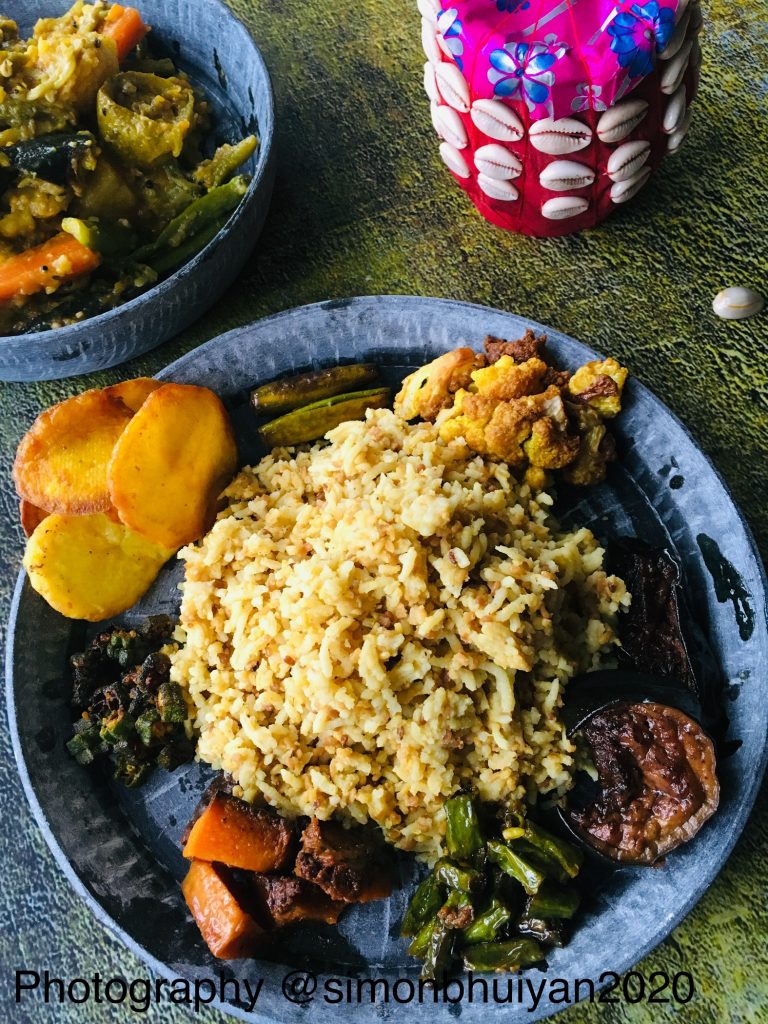 Related
---
---