Easy Fresh Strawberry Ice-cream: No Churn, three ingredients, egg and gelatin free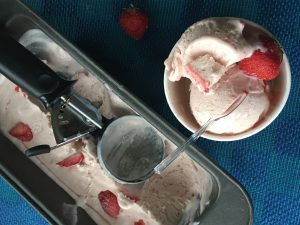 The recipe for Easy Fresh Strawberry Ice-cream needs only three ingredients and lots of love. So with lots of love in my heart, I sit to write the blog post at 7am in the morning. My writing /work station is near the window in my living room. This is the best part in my house: I can see the greens, vast blue sky and Pinner Park from where I sit. But today what caught my attention is a man on cycle, green shirt, and brown pants carrying two bags crisscrossed over his shoulder. A newspaper man!!!!!!!!!!!!! 8 years in London and this is the first time I have seen a newspaper man here. Memories of Kolkata and Delhi comes flooding. The newspaper man at home has a strange relationship with my mother. He gets threatened every morning by ma    " Abar deri korechish. Kaal theke ar paper dite hobe na!"  (You are late again. You don't have to give paper any longer) and it's been going for years. Lalu da smiles, always smiles and gets the milk that's been in the basket since morning ( a basket that's ben dangled with a rope from first floor, ek tola)  and keeps it inside on the stairs so that ma can pick it up easily.  Life is simple, uncomplicated devoid of suspicion still in my mothers life.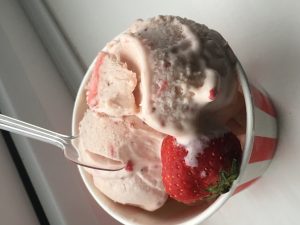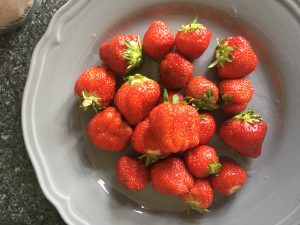 Well, I sat with the great idea that I will finish the writing before my dotty wakes up. She went to bed late last night hence will not be up soon. But kids have a way of getting to their mother, I tell you. I hear a mumma water. Mumma where are you. Its 7.30only. On a given day when I go to work, I beg, plead for my dotty to be up so that I can reach office on time. But that prayer is never heard. Today, of all day she is up. Life of a mother! Your child knows where to get you!
Now back to recipe, really need to finish this while the Bubu is reading her book while giving her breakfast.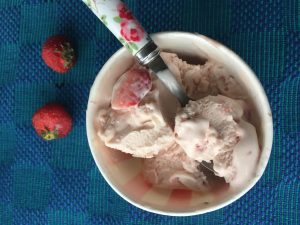 This Fresh Strawberry Ice-cream recipe is really simple, needs just 3 ingredients.  You don't need an ice maker or eggs or gelatine to set it. What I like about this one is at least you know what your child or you are eating. My dotty is ice cream addict like me hence this works for such wonderfully. This is extremely creamy, no Icey feeling and no need of bringing out of the fridge to churn it. Mix the ingredients, pop them inside the fridge and bring it out and enjoy.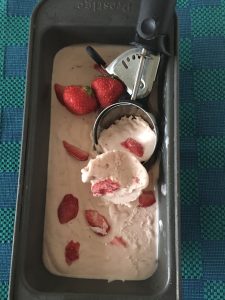 Some of you requested a diabetic version. What I did is, replaced the condense milk with yoghurt and added some sweetener. There was an after taste of sweetener which I did not like. But if you are using a sweet fruit like mango I do not think you would need sweetener. But still it was creamy and yummy!
Hope you would try the recipe and give me feedback.
Enjoy and look forward to hear from you.

Servings

Prep Time

5-6

Scoops

20

mins
Servings

Prep Time

5-6

Scoops

20

mins
Mash strawberries in a bowl and set aside. If using thawed frozen strawberries, drain the excess juices and water first, then mash the strawberries. If using fresh strawberries, keep the juices.

In large mixing bowl of stand-mixer or in a large bowl and using an electric hand mixer, add all the ingredients: heavy whipping cream, sweetened condensed milk. (or yoghurt instead of condenses milk if using)

Whip the heavy cream mixture on high speed until stiff peaks form. Be careful not to over mix or "break" the whip cream mixture

Pour the mashed strawberries into the mixture and gently fold in until combined.

(Optional) for a brighter pink color, add a few drops of red food coloring into the mixture and gently stir

Pour the whipped mixture into a freezer safe container

Top with a few slices of strawberries for garnish (optional)

Cover and freeze for about 4-5 hours. In about 3-4 hours you can have a "soft serve" type ice cream

If you prefer a more firm texture, freeze for at least 5-6 hours or overnight
Note :
*,** : please note that diabetes version is my made up recipe. This is not heath practitioner monitored. Hence please take advice of GP before making. I am sure you know your heath need hence use judgement or talk to GP.
Related
---
---