Kolkata Style Egg Chicken Roll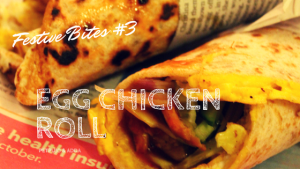 Egg chicken Roll is time tasted street food which is hugely popular in Kolkata. Bengali's do not need an occasion to gorge on this beauties. Be in an evening snack, after office binging, lovers day out, puja pandal hopping at mid night, first day outing after marriage with new husband, college class bunking and adda or 'parar rock ee boshe adda'. Egg Chicken roll is a great company is all occasion and more. Every Bong in Kolkata has his allegiance fixed with their favourite joint which satisfies their craving for these rolls. From students who travel between schools/college and tuitions, Lovers finding a quiet place in Victoria/moidan  to chit chat with a single  Egg Chicken roll in their hands to office returned executives, everyone have a craving for it. It is now hugely popular in other cities like Delhi Mumbai and Bangalore and even London with its own Kolkata kathi roll. But noting matches the taste of egg chicken roll born and made and eaten is the city of joy.  And my recipe will not match as well. It is my humble try only to recreate a memory and fragment of the taste which I miss so badly in London.
Puja is here. And I am sitting in front of my computer, writing this blog before leaving for office. Reliving memory through food is all I have today, so far away from home.
Ingredients for paratha or wrap:
1 1/2 cups All-purpose flour
Warm Water to knead the dough
Making the paratha or wrap:
1. Add flour to a large bowl and sprinkle some salt
2. Now make a well in the centre, add 2 tbsp oil and add warm water little by little
3. Mix well to make a soft dough ball. Cover with dough and let it sit for 10-15 minutes.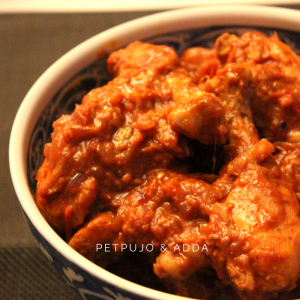 Ingredient for Chicken kosha:
500 gms Boneless Chicken or chicken with bone which you can separate after cooking
1 large Tomato (cut into wedges)
 4-5 Garlic cloves (pasted)
½ green chilli paste (optional)
1 tsp chilli powder (optimal)
1 tsp Kashmiri chilli powder
2 onions diced into small pieces
Whole garam masala (2 green cardamom, 2 cloves and a small cardamom stick)
Making the kosha Chicken:
Heat oil in a pan and temper whole cumin seed, bay leaf and whole garam masala

Add sugar and wait till it's caramelised and add chopped onion

Fry onion until they are translucent

Add ginger-garlic-chilli paste and fry till and oil is completely separated from spices

Now add tomato wedges, turmeric powder and chilli powder. Fry till tomato is soft and cooked

Lower the heat to minimum and add beaten curd. Cook for a minute over low heat.

Add chicken pieces now. Mix and stir in spices

Lower the heat to medium and cook covered. Stir occasionally to prevent sticking/burning at the bottom.

Add salt now and lower the heat to minimum. Cook until it's soft and completely done.

Add 1/4 cup water and again cook over high heat until oil separates completely leaving thick gravy (3-4 minutes).

Lastly sprinkle garam masala powder and turn off the heat
Ingredient for the filling:
2 medium size Onions, thinly slice
2 Green chillies, finely chopped
Salt and Pepper powder to taste
Chaat masala/Bhaja masal optional (optional)
Method for making Egg Chicken Roll:
1.

    
Divide the dough into 4 equal parts and shape into round balls. Using a rolling pin, roll into thin chapatis
2.

    
Heat a chapati pan, place a chapati and cook on one sides for 30 seconds then flip it
3.

    
Pour 1 tsp oil on each side of the paratha and cook for a minute for both side.
4.

   
When Paratha is fried, break an egg on the paratha, whisk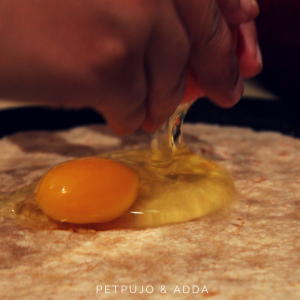 5.

    
Tilt and rotate slightly to spread egg on paratha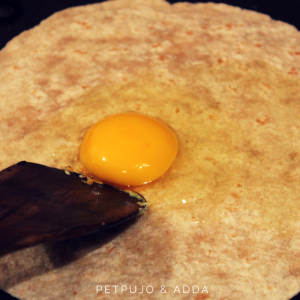 6.

    
Flip the paratha on other side so that the egg side is also cooked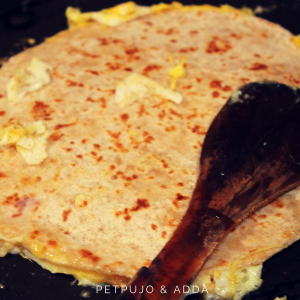 1.

    
Place the paratha on a platform (egg side up) pour some tomato sauce over it and add some kosha  chicken pieces along with green chillies, cucumber, onion, coriander leaves.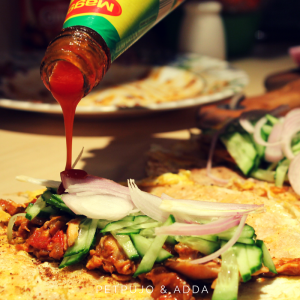 2.

    
Add in some kosha chicken pieces in the center and season with salt and some lemon juice. Sprinkle some chaat masala/bhaja masala.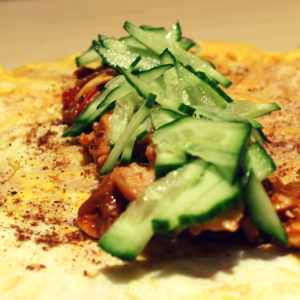 3.

    
Roll the paratha with the chicken stuffing tightly so that while eating the chicken pieces shouldn't fall. Wrap the bottom half of the chicken roll in a paper and tuck the remaining tissue inside the roll at the bottom.
4.

    
Your egg chicken roll is ready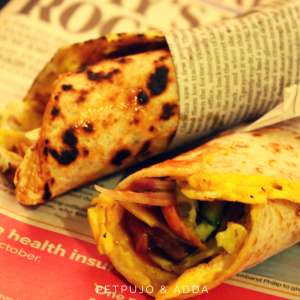 Related
---
---