Drums of Heaven- Chicken Drumsticks-Chicken Lollipop tossed in Schezwan Sauce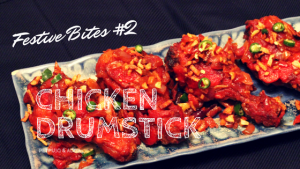 We celebrated Durga Puja a bit early this year. Rumi, from Basingstoke left a message for me on my Magic in the Oven (https://www.facebook.com/Magic-in-the-Oven-1712207279067424/) page asking if I wanted do the sweets for their Durga Puja which was on Sunday, 2nd Oct. She wanted Baked Rasogolla for 100 people!!!  My first response was 'No way, how is that possible' '100 people' 'on Sunday' 'in 2 days' and how am I going to travel from London to Basingstoke!
Well, that scepticism didn't last long! One call from Rumi and she made it sound so easy! She encouraged me to take that leap of faith and take up the challenge. And I am ever so happy that I did.
I not only made the sweets for their bhog but also could give a small stall with Kolkata street food – fish fry, vegetable chop, mutton ghugni and misti doi. And what an outstanding response I received…the fish fry was polished off before we could blink!
But, what I took away from that day is how hospitable the entire team of Basingstoke Durga Puja was! Everyone in the team took effort to come and engage with us and made us feel at home. We had great 'mangso bhat' for bhog and we were also given a nice little packet of mangso to take back home. Overall a great start to the festive season.
My post is dedicated to the wonderful people of Basingstoke who made us feel so special – special thanks to Rumi without whom we would have not met such a lovely bunch of people.
Thank you all. You all rock!
Now about the recipe. Drums of Heaven is actually Chicken Lollipop tossed in Schezwan sauce. Hence the recipe has two part: 1. making of the chicken lollipops and 2. Making Drum of heave by cooking the chicken lollipops in schezwan Sauce
You can just make the chicken lollipops and eat on their own as well.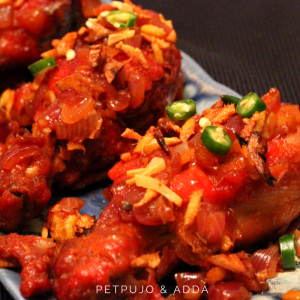 Ingredients for Chicken Lollipop Recipe
·

      
1 tpsp Ginger-garlic paste
·

      
1 tsp Chilli sauce
·

      
Oil deep frying depending in frying pan
·

      
Clean the chicken legs/drumsticks and keep aside.
·

      
In a different bowl whisk the egg and then add all the other ingredients to it, except oil and whisk again.
·

      
Marinate the chicken drumsticks in this prepared batter for at least 1 hour.
·

      
Once the chicken is well marinated deep fry the pieces till golden brown. Chicken lollipop is ready to be served with ketchup if you want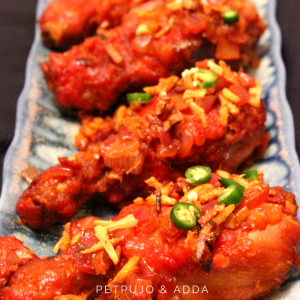 Ingredient for Schezwan sauce:
·

      
4-5 Garlic chopped
·

      
1inch Ginger chopped
·

      
1 large Onion chopped
·

      
3 Green chillies cut into small pieces (optional, I used them only to decorate so that my toddler could eat my food)
·

      
1 tsp Chilli sauce (or less/more, depending on taste, I used less again so that my toddler could eat)
·

      
2/3 tsp Soya sauce
·

      
1 tbsp Tomato sauce
·

      
Spring onions – chopped (for garnishing)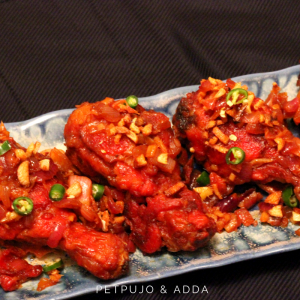 Method for preparing Drums of Heaven in Schezwan sauce
·

      
Add the chopped garlic and ginger and sauté for a minute.
·

      
Add the onion and green chillies (if using
·

      
) and sauté for another minute till the onion becomes pink.
·

      
 Add the chili sauce, soya sauce, tomato sauce and again sauté for another minute.
·

      
Add salt and very little water to prepare the sauce.
·

      
Once the right consistency is reached toss the chicken lollipops in the sauce.
·

      
Garnish with spring
onion.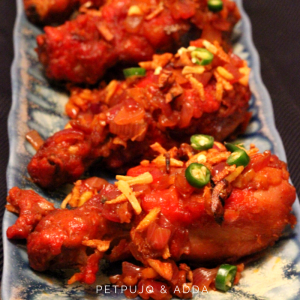 Related
---
---