Bengali Vegetable Chop – Beetroot Croquette -Vegetable Croquette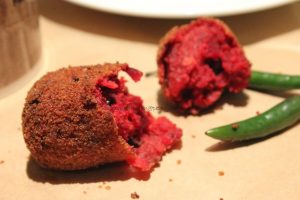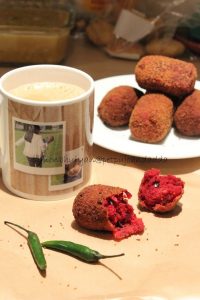 Pujo is almost here. In just a couple of days,  Bengalis across the globe will be celebrating Durga Puja a five-day festival worshiping of Goddess Durga and celebrates her win against the evil demon 'Asur'. Durga Puja is all about  getting dressed in new puja look , 'adda'  and visiting Puja pandals across the town with friends and  family and most importantly, gorging on splendid food…
In London too, I can feel Durga puja. Today in the office all I could think about is coming home to open the suitcases to bring out the new sarees that I got from Kolkata to wear during the puja. Bringing out the cute little festive cloths that I got N and show them off to her.
I didn't still bring my suitcase out, but decided instead to cook some festive food, some gorgeous festive food from the streets Kolkata without which Puja is incomplete.
First of the series is Vegetable chop!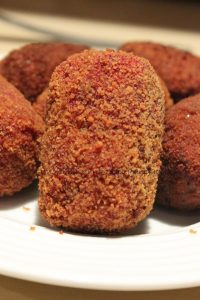 1/2 tsp Chili Powder (optional)
2 tbsp Roasted Peanuts (chopped)
1 teaspoon Bengali Bhaja Masala
Ingredient for Bhaja Masala: You can store this spice mix for later use as well
1 teaspoon coriander seed
Method of making Bhaja Masala
·

      
Dry roast all the ingredient on frying pan
·

      
Let them cool down a bit
·

      
Grind dry roasted in blender or coffee grinder
·

      
Store in air tight container for long term use
Method for making the vegetable Chop:
·

      
Wash and  Pill the vegetable
·

      
Boil all the vegetables and let them cool, Smash the vegetables and add salt.
·

      
Add ginger paste, cumin powder, chili powder, grated coconut, Bhaja Masala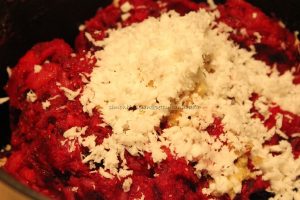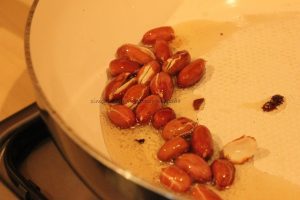 ·

      
Now turn off the flame and add fried peanuts to the above mashed vegetable.
·

      
Make oblong shaped chop out of this mixture.
Frying Method One: Toddler friendly healthy snack:
·

      
Heat little oil in a frying pan
·

      
Take a vegetable chop and dunk it in the beaten egg
·

      
This method takes very little oil hence very healthy. The taste is not like the chop one might be used to eating. But the main taste remains the same.
Frying Method Two: Again a healthier option which takes very little oil but somewhat taste the same: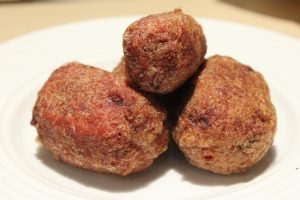 ·

      
Heat oil in a deep bottom pan
·

      
Take a vegetable chop and coat with the bread crumbs and place onto a plate
·

      
Now dunk the bread crumb coated vegetable chop in beaten egg
·

      
In this method the bread crumb is somewhat washed by the egg hence takes less oil then usual but still retains original taste. also it is healthier than the original option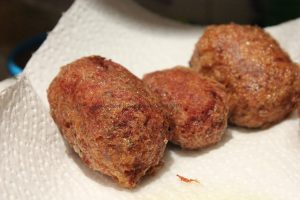 Frying method three: The actual method used in shops or the taste most of us are accustomed with
·

      
Now dip each of the above-made balls in the beaten egg
·

      
 Afterwards coat each ball with the bread crumbs and place onto a plate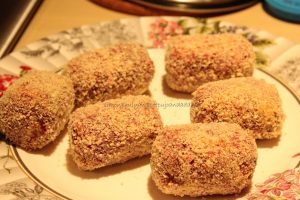 ·

      
Repeat the process for all the balls and then place them in the refrigerator for 1 hour or longer.
·

      
Heat the oil in a pan and deep fry each ball till golden brown.
·

      
Serve the vegetable chop with some Kasundi ( Bengali Mustard sauce)  and onion or vegetable chop and muri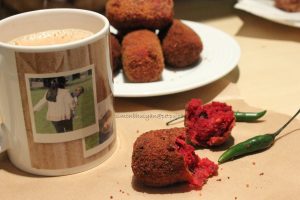 Related
---
---