Rava or Rawa Upma- Suji Upma -Semolina Upma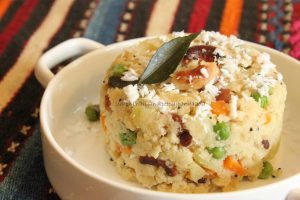 According to Wiki " Upma or Uppuma or Uppittu is a common South Indian, Maharashtrian and Sri Lankan Tamils breakfast dish, cooked as a thick porridge from dry roasted semolina or coarse rice flour. Various seasonings and/or vegetables are often added during the cooking, depending on individual preferences. These days, it is popular in most parts of India and is prepared in various ways"
However I must add that it is also cooked in Bengali household with a little variation in the cooking method. It also brings back memories of Delhi University PGW hostel days when we used to eagerly wait for weekend for some good food and Upma was one of them in the breakfast.
I usually cook this almost every second weekend for my daughter as she can easily self-feed this breakfast. It is healthy, easy to make without much fuss, adults can eat it too.  I don't know why I didn't think about sharing the recipe before till someone requested the recipe.
Without much ado, the recipe.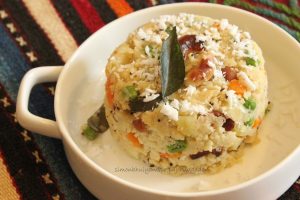 Rava Upma/ Suji Upma/ Semolina Upma-Quick and healthy Breakfast Recipes/Healthy Breakfast recipe for children
Preparation Time:
15 minutes
Level Of Cooking:
Moderate
Ingredients for Vegetable Upma Recipe
1 1/2 cups Semolina (rava/suji)
1 medium Carrot cut into ¼ inch cubes
6-8 French beans, cut into ¼ inch cubes
1 medium Onion (optional)
2 Green chillies (optional)
2 tablespoons olive oil (or less if you do not fry the veggies or the cashew nut)
1/2 teaspoon Mustard seeds
1 teaspoons Split black gram skinless (dhuli urad dal)
1 tea spoon split Bengal gram
1.

    
Dry roast the Suji/rava in a fry pan till they are slightly goldish (not too much not too much)   and there is a nutty flavour. Then keep them aside
2.

    
Wash and cut all the vegetables. You can actually use as many and as much veggie as you want
3.

    
Give oil in the fry pan and warm
5.

    
When it starts popping add the Urad dal and Bengal gram, fry till they are lightly golden (1mins maybe or less!!)
6.

    
Add curry leave, onion and the cashew nut and fry till onions are translucent, by this time nuts should be fried too.
7.

    
Add veggies and sauté a little
9.

    
Add the rava or suji.
10.

 
Add salt as per taste and add green chili ( if using)
11.

 
 Cook till water is reduced and the upma is thick in consistency
12.

 
Garnish with coconut and serve with coconut chutney or coconut tomato chutney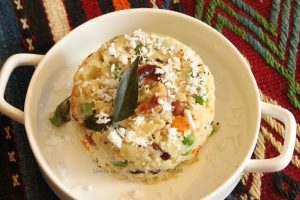 Related
---
---