Bengali Macher Chop- Fish Croquette and a week with my daughter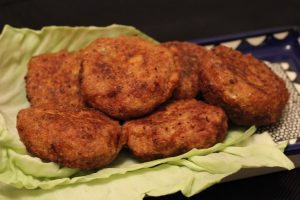 I made this chops two weeks back and have been meaning to upload them. Well I was on holiday this whole week and I had made this huge to do list. Uploading this one on the blog was one of them. I didn't achieve much from the lists. No regrets as I got to spend a lot of time with my daughter whom I don't get to see much during the weeks. She has a very busy life.
Being two and half is not easy. It is a hard life.
Her usual day start with getting up 6 am in the morning, getting dressed and then going to her child minders. It doesn't stop at that. They she goes for school drops, then to children centre, have lunch, go to sleep and then school pick up. In between lots of running around after a cat named chocolate and dinner. From five her wait starts; waiting for mumma to pick her up at 6.30ish.  Then she comes back home, take a bath, play with mumma, and maybe eat something. Then its bed time with some story.
That's a lot of work for a day. That is also lots of time without mumma!!!!!!!!!!
This week was about being with my favourite person in the world. My heart outside by body. Neelormi Bhuiyan Chatterjee. We call her Neemi apart from many other names.
Our day started with some 'gyada gyadi' (a Bengali term with no English translation) in bed. I have taught her butterfly kiss (a kiss where you flutter your eye lids on the cheek). We keep kissing each other and my dotty breaks into such giggle that it melts my heart (by the way a mother's heart's melting point is very low). This is the time I cherish the most as she voluntarily spends so much time so close to me. Rest of the time she is like a fish, constantly moving around.
We make my tea together. She is an expert in making tea. She knows when to give water, tea and milk. ' no more water bas bas' 'get milk now' 'I do it'  and 'here you go' 'tea' and my tea is ready. I am set for the day. She makes her tea too but it's from the blue bottle. 'waterrrrrr please' no more bas bas. Mumma I told you bas bas!
We sit in our balcony with our tea. Now it's time to play with some bubbles. We make bubbles and look at them flying to the sky together. 'Mummy look' and I look at her proudly for making the biggest bubble in the wholestttt world! I can see the rainbow on my daughter's face. As I keep looking for the ninth wonder my daughter is making with simple soapy water, my face lights up with pride. And my daughter seems brighter then the sun. We exchange our secret look and break into giggle.
Without much ado, the recipe for the Bengali Macher Chop/Maacher Chop or   Fish Chop Croquette. There are several variety for the process. Most of the chop available in market have very thick coat of breadcrumb and very little fish. I will give that recipe for that some other day. This one taste little different as it has light coat of bread crumb and more of fish and needs less oil to fry. I personally like this one more as it's fishier in taste, healthier without compromise on the taste. But of course it is not up to the mark to meet nostalgia for many who grew up in Kolkata.
Give it a try and I am sure you will not be disappointed.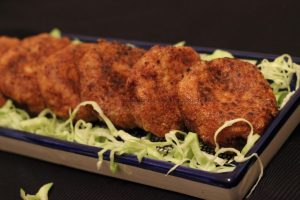 Cooking time: 30mins
Preparation time: 30 mins (including boiling potatoes)
Difficulty level: Easy
Category: Snacks, first course of main meal
 4 fillet of bone less Tilapia/Basa/ any white fish like Rohu etc
2 table spoon of lime juice
1 table spoon ginger paste
1 table spoon garlic paste (optional)
1 green chilli cut into small pieces (optional)
1 teaspoon chili powder (as per taste)
1/2 tablespoon garam masala (I used sunrise Shahi garam masala from Kolkata)
Bunch of fresh coriander (as per taste)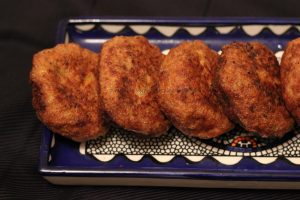 1.

     

Take the skin off the potatoes, wash and boil them. Keep aside to cool
2.

     

Meanwhile slice onion into thin slices
3.

     

Heat oil on a frying pan and fry the onions till little brownish
4.

     

Add ginger and garlic ( if using) and fry till oil separates
5.

     

Add fish fillets ( pre washed) and fry  for 2/3mins
6.

     

Add salt, chilli powder and half the garam masala
7.

     

Fry the fish thoroughly and then keep aside
8.

     

Meanwhile mash the potatoes
9.

     

Add lemon juice , rest of the garam masala, fried fish, coriander, green chili ( if using) and mash properly
10.

  

Meanwhile spread the bread crumb on a plate
11.

  

Break the egg and beat in
12.

  

Divide the mixture into small or medium shaped round patties.
13.

  

Heat oil in a shallow frying pan.
14.

  

Coat each patty with breadcrumb and then soak into egg
15.

  

Immediate place them on hot oil and fry till brown
16.

  

Serve hot along  with Kasundi and onion or ketchup
Related
---
---