Chettinad Chicken Roast
I
was looking for a recipe that is easy to make. Now what is an easy recipe? Easy to make or takes less time or hassle free ingredients? What? What actually is easy for me!!!! What is it I am looking for? Hmmm! Good question! 
I am a mother of a toddler, I have an office that is madness, and I have a home that is a battle ground with small shoes, lego, blogs, pencils papers, baby cornflakes and bla bla da da things all over floor. Among all these madness of this thing called life…. I have an urge to cook. Cooking is my stress buster. But I need sometime easy. Something which can be whisked up just like that.  Something that I can make in between attending to my ever to active toddler and baking two, double barrel cake.
Hence is this recipe. Connotation of various recipes from the internet.  I made a so called Chettinad spice that can be stored and used at a later time making the cooking very easy, less time taking and can be made with very few ingredients that might already be in your pantry.
Ingredients for the Chettinad Spice/Masala  
5 dried Kashmiri Chili (go on use red chili if you like your dish hot!!!!)
2 teaspoon coriander seeds
Ingredient for the cooking the chicken
1 kg chicken (I used legs and breast mixed. You can use whatever you like)
2 tablespoon oil (any oil, I used Olivio )
2 green chillies (optional I didn't use as my toddler eats the same food as us)  
2 tablespoon ginger garlic paste
3 tablespoon shredded coconut (fresh or frozen)
Dry roast all the dry ingredient for Chettinad masala till there is a sharp aroma and grind to a fine powder in a blender. You can now store this masala in an air tight bottle to be used at a later time as well.
Wash the chicken
Marinate for 10 mins with salt, ginger and garlic paste
Heat oil in a pan and add in the mustard seeds and let the mustard seeds splutter. Add the urad dal and curry leaves
Add the onions and fry till golden brown.
Add the marinated chicken. Add green chili if using
Pan roast the chicken till they are lightly cooked and burned on sides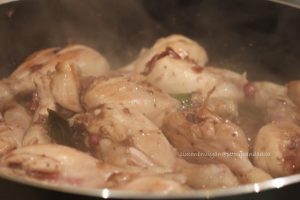 Add shredded coconut and fry for another 5/10 mins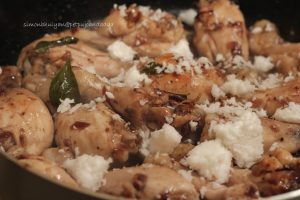 Add in the ground masala  with chicken and fry 
Add a cup of hot water and cover the chicken till tender and water have reduced.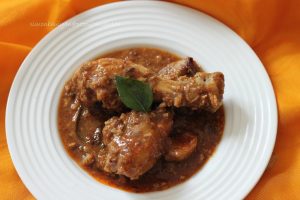 Now I made it little gravy kind to eat with rice. You can also dry is totally to eat with roti


Remove from heat and serve hot with rice or roti or as starter
( if making as starter then I suggest dry the chicken) 
·

       
( if making as starter then I suggest dry the chicken) 
Related
---
---