Mogo Tikki -Cassava Croquette- by Leena: An unsung Superstar Tikki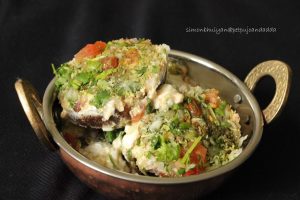 Leena is a friend and life saver. I have known her for over six years now. From my days of being a student at SOAS (School of Oriental and African Studies), paper submissions, endless night readings to the birth of my child, she has been with us thick and thin. Our weekends are better because of her Aloo paratha, her animated conversation, and endless suggestion of how to keep the home clean and tidy. Her knowledge of which product is sale in Wilkinson to where is the best place to shop cloths are as wide as her culinary skill.
Her recipes are also very different from a Bengali kitchen which attracts me a lot as I get to eat very unusual, unsung Gujrati home cuisine.
Here is one of Leena's best dishes that I have had: Mogo Tikki (Cassava Tikki)
What is Mogo or Cassava: From Wiki "The cassava root is long and tapered, with a firm, homogeneous flesh encased in a detachable rind, about 1 mm thick, rough and brown on the outside. Commercial varieties can be 5 to 10 cm (2.0 to 3.9 in) in diameter at the top, and around 15 to 30 cm (5.9 to 11.8 in) long. A woody vascular bundle runs along the root's axis. The flesh can be chalk-white or yellowish. Cassava roots are very rich in starch and contain significant amounts of calcium (50 mg/100g), phosphorus (40 mg/100g) and vitamin C (25 mg/100g). However, they are poor in protein and other nutrients."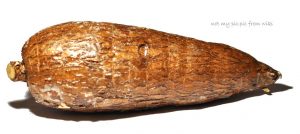 Makes: 10 depending on size of the tikka number can vary
Time: 1 hours including preparation
Level: very easy  
2/3table spoon lime/lemon juice
3 Green chill (or more if you like it hot)  
1 onion diced into small pieces
Salt and paper as per taste
4/5 tablespoon Corn flower
Ingredients for coriander Chutney
1 cup chopped fresh coriander leaves
Black salt or rock salt or sea salt as required
Ingredients for Dates and Tamarind Chutney
½ teaspoon coriander powder
½ red chilli powder (optional)
Black salt or rock salt or sea salt as required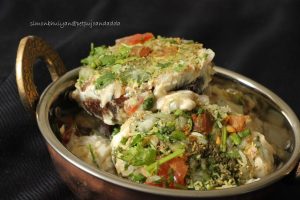 1
  1  
Cut and clean
the Mogo in to small pieces and boil
2.
Meanwhile take all the ingredient for coriander chutney in a blender and mix it well. Keep aside. The consistency will be thick liquid
3.
Take all the ingredient for Date and tamarind chutney in blender and mix well. It will be liquid
in consistency
4.
Now the Mogo should be boiled. Mash them like potato
5.
Add salt, paper, ginger paste, green chilli, lime/lemon
juice, chat masala and mix well with the mashed Mogo
6.
Divide the mixture into small or medium shaped patties. Rub corn flower on both the sides of the tikki
7.
Heat oil in a tava or a shallow frying pan. Gently place the Mogo tikki and pan fry them. You can also deep fry them
8.
When one side of tikki becomes golden and crisp, turn over and fry the other side of tikki.
9.
Gently flip for a couple of times till the mogo tikki are golden and crisp evenly.
10.
Once done, then drain the Mogo
tikki on paper towels to remove excess oil.
11.
Arrange the tikka in a shallow deep plate
12.
Mix the yogurt with little water/milk
and pour over the arranged tikkis and let it soak for 5 mins
13.
Pour the coriander chutney and date tamarind chutney over the youghurt soaked tikkis
14.
Garnish with tomato, diced onion, fresh chopped coriander, sev and chat masala
15.
What are you waiting for? Dive in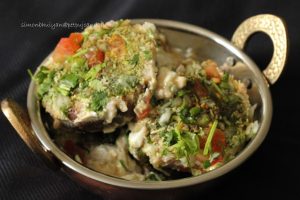 ---
---