Nolen Gurer Sandesh (Sondesh) /Cottage Cheese Fudge with Date Palm Jaggery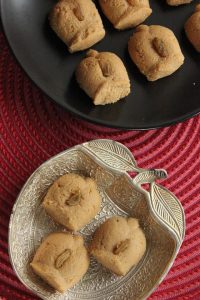 'Nolen Gur' —-the sound of the name is enough to make all Bengalis sentimental. The Date palm jaggery is an intrinsic part of Bengali life and is synonymous to winter in Bengal. Sandesh or the way Bengali's call it Sondesh- its history dates back to medieval time. According to WIKI "A sweet dish by the name Sandesh is mentioned in medieval Bengali literature, including Krittibas' Ramayana and lyrics of Chaitanya. However, the ingredients of this original dish are not known. This dish was most likely different from the modern chhena-based sandesh, being made of solidified kheer."
According to blogger of Hamare Rasoi " Legend has it that in early 18th century a sweet shop owner from Bengal called Bhim Nag had mastered in the art of preparing shondesh and after tasting which the Lady Viceroy of India was smitten by it and from there after there was no looking back for this sweet "
According to WIKI "It is hard to determine when exactly sandesh started referring mainly to the chhena-based sweet instead of the kheer-based sweet. But it is known that by the second half of the 19th century, sandesh commonly referred to the chhena-based sweet. The Portuguese influence may have led to introduction of cheese (i.e. chhena) in sixteenth century."
Whatever the history, it surely stood the taste of time. There is hardly any Bengali who doesn't like Sandesh of some kind. Bengali's await the whole year to taste this winter delicacy. Winter is incomplete without Nolen Gur or date palm Jaggery.  Go to any sweet shop and you will see Rasogolla, Kanchagolla, Jalbhara (Sandesh with juicy center) or bhapa sandesh (steamed Sandesh): all made with Nolen Gur.  The Gur is also sold on its own to be consumed at home with for making pithe/puli or to make Payesh. With changing time, there are also certain changes in the availability of the Gur. Now in many famous shops like Balaram Mallick sell them all through the year-they are actually very good in terms of quality. One can buy Nolen gur in Tube from Bhiswa Bangla Stores in Kolkata or the airport- well I didn't like them much but still it is getting wider audience which matters at the end of the day.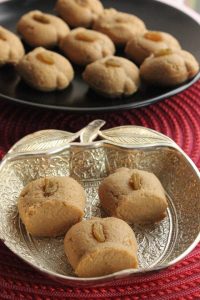 I get my store of Nolen gur from Kolkata. We have kind friends- 'S' da who make sure that my store is never depleting of Nolen Gur.  I can never have enough of' nolen gur er sondesh': such is my love affair with the sweet. I make the plain version of the Sandesh and also the version mixed with coconut.  Both of these sweets are one of the most requested sweet dishes from my kitchen.  once I had put my Sandesh pictures on my Facebook page I got quite a number of  requests to share the source of molds as well as the recipe. Few of my friends have personally got in touch with me to post the much awaited recipe on my site. Hence for you all…. Here it is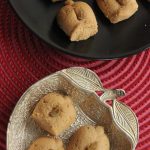 Servings

Prep Time

10

Pieces

1 hour

minutes
Servings

Prep Time

10

Pieces

1 hour

minutes
1.Boil the milk in a heavy-bottomed pan over medium to low heat, stir occasionally. Once the milk starts boiling, lower the flame. Pour the vinegar/ lime juice and stir in. Milk will start cuddling and change into chana (cottage cheese) and greenish water.

2. Remove the pan from heat and leave the chana in this condition few minutes.

3. Pour the chana - water mixture over a muslin cloth or a soft cotton cloth (I used new unused cotton vest from my husband and also use unused dhoti sometimes) and let the water drain away.

4. Put the chana under cold running water for 2 to 3 minutes to remove the vinegary/lemony smell.

5. Tie the loose ends and hang it to the tap to drain our excess water for half an hour.

6. Squeeze the cloth for extra water. But note that the chana should not get too dry.

7.Put the lump of chana over flat surface and knead it. You have to knead it with your finger and heel of your palm. Once the lumpy thing starts looking as smooth ball add powdered sugar in it and knead again for another 10-12 minutes

8.Put a non-stick pan on low heat, add Nolen the gur and melt it . Add the kneaded chana. Cook the chana at low heat by stirring it continuously with a spatula for about 4 to 5 minutes or until the Nolen gur is well mixed

9. Brush the inside of the molds with little ghee ( clarified butter ).Take out the warm Sandesh and shape with molds. If you don't have any molds just toss into balls. Serve warm or at room temperature.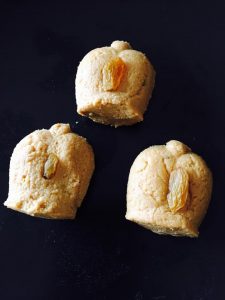 Related
---
---