Rajasthani Safed Maas- Lamb cooked in white gravy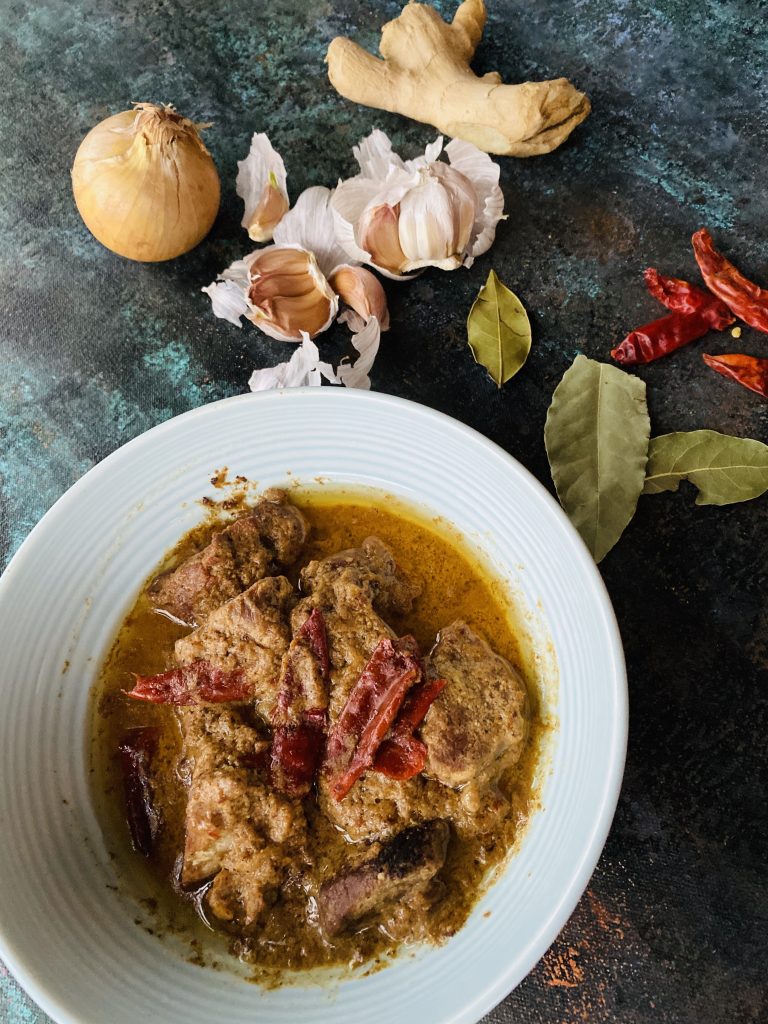 Picture taken 6th January 2020
This is very old blog post of mine: September 2012. Another time and another space and another era to me. I did not know any other Bengali food blogger or a home cook in business in London then. I have come a long way since those time. I still cook with equal passion and I have way to go. But look at my photography- can you see the difference? I have come a long way since isn't it. I am just editing the post but not changing almost anything other then adding a recent photo and editing the recipe to a printable version. This is one of those recipes which I cook a lot at home-its light and easy on tummy. Easy to cook and unlike Laal Maas it is not high on spices, chilli or oil.
Here is a unedited old post:
I avoid eating red meat. I reserve any red meat cooking for friends who love mutton. In that way, R gets to eat mutton occasionally, which is good, and seems like better option than total ban. This mutton preparation is from a Rajasthani kitchen of a family friend and ardent Rabindranath Thakur's followers. She knows my weakness for this preparation of mutton and makes sure that I get to eat it whenever I visit. Now that, I have to wait for another 6 months before I get to eat this dish from her kitchen, I decided to cook it in my kitchen .In addition, I wanted to cook something nice for our dearest friend S da and this is just perfect. I only have bits and bobs idea about the original preparation of the dish. Nevertheless, that should not stop me from trying to make it, right? Therefore, here is my version of the dish- a transformation of taste in the mouth to imagination to finally cooking!
The Family friend is no more! All these years and I suddenly realised little bit of her is alive in my blog post
Boil the mutton/lamb with little salt until half done. I pressure-cooked it for the boiling. I boil and throw the water to reduce the fat but you do not need to do that. You can cook mutton directly.

Discard the water and the transfer the mutton/lamb pieces on a separate bowl

Heat the oil and add cardamom, cinnamon, cloves and onion

Fry until onion is translucent

Add the ginger and fry for another 5/6 mins

Add the mutton. Also add pepper powder

Cook on low flame for about 20 mins or until mutton/lamb is almost cooked. Add little milk/water in case mutton is sticking at the bottom.

Add poppy seed paste, almond paste, cashew paste , coconut paste, grated paneer/khoya and milk and cook for another 10-15 mins

Add the almond and cashew and cook for another 10 mins

Add garlic paste cook for 5 mins

Add milk or water if you like

Cook the mutton until well-done and gravy has reduce to desired consistency

Add the saffron soaked milk and mix well

Garnish with red chilli cook little longer so the chills are little soft

Serve with boiled rice, pulao or roti/naan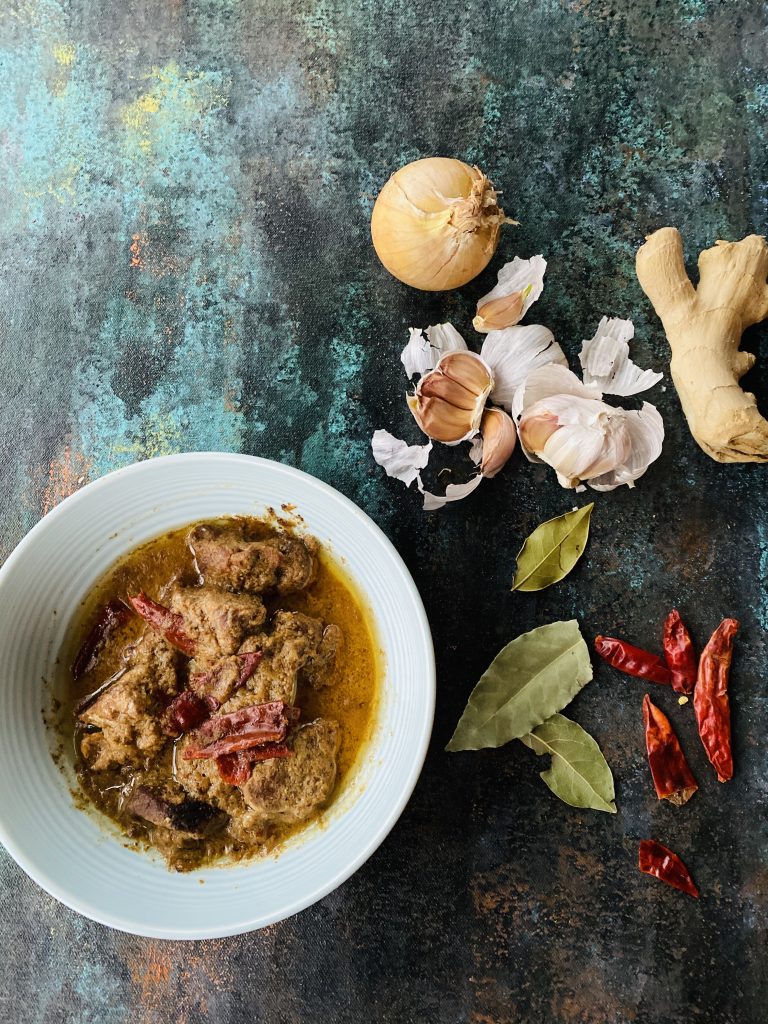 Related
---
---