Three years, Motherhood & a Comeback: My ma's Chicken Paturi-Chicken steamed in Banana leaf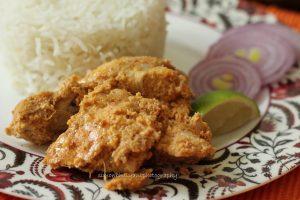 I am looking at my laptop screen thinking what is it that I really want to write? All that comes out of me is a long breath. Where do I start?
It's been three long years since I looked at my blog. And what an amazing three year it has been for me. My daughter was born in November 2013. My life, our life changed forever; she brought the joy that nothing can match. She filled every moment of my life. She makes me a better person. Motherhood changed everything – one has less time than usual, you become responsible for another little person who is totally dependent on you. Motherhood means dirty nappy, breastfeeding room lock, sleepless night, messy house, toddler tantrum, potty training, lack of adult company and the list can go on. Very common isn't it? But trust me for all mothers, motherhood is above all, purest joy, is about that cuddle and mushy hug that only a child can give, about that gooey kiss on your cheek, those small fingers that holds you while she sleeps, that peaceful sleep on your chest while wearing the child, those morning teas that your toddler insists on making every single day and those kisses on your hand when you are hurt and those running towards you calling 'mummyyyyyyyyyyy' when you go to pick her up every single evening. Motherhood is magical and all child has a magic wand for their parents.
Yes, that is what I was and am busy with: enjoying being N's mumma. Nothing else mattered then and nothing matters more now.
In the meantime, my blog grew. Like an organic being it grew on its own. With about 3500 Facebook likes and some thousands and thousanda of page visit it just grew on its own. My first child grew without me.
My partner R has been insisting me to restart writing in the blog again.  I was not really sure. I am still not sure if I am ready. It takes a lot of time and dedication. But here I am giving it a second go.  
I didn't know what to start with. Most of the recipes that came into my mind was the food that I cook for my daughter. But I decided against it. I want to do a dedicated section on child friendly healthy food that everyone in the family can eat. For now I am sharing a recipe that is my favourite and my daughter loves it too.
And, hey welcome back to me and to you too.
Chicken Paturi
Genre:
Main course / Starter
Category
: Non-vegetarian (Chicken)
Time needed
:  1 and half hour
Ma comes from an aristocracy. She never cooked, never had to. Then she married my father: a teacher and obviously poor, and they moved to North Africa.
Everything changed after that. Ma had to unlearn almost everything that was her life. One of the most important change was the taste of food. My mother's family hails from Noakhali. Hence coconut, fish/meat and banana leaf were the focal point of her palate. Paturi (food wrapped in banana parcel and grilled on skillet) was an integral part of their regular meal. She missed eating food that she grew up with. Missed fish, coconut, chili, oil and the spices. It is not like now, it was thirty years back – she could not call her mother to ask for recipe. Those days we had to go to the post office to make international calls once in a month. 
For a long time she ate what was available and hated everything. Especially she hated the sea fish. Then she met a couple of Bangladeshi workers from Dauwee Company and got to know that there were some 300 Bangladeshi in the city. Bangladeshi's take their food even more seriously than us, I feel (I am a bangal you see). Hence they had all the spices that my mother needed and more. Ma got her stock of spices from them and started experimenting with local produce – the so called fusion food. Chicken paturi is the result of such fusion between spices from Bangladesh and local produce of North Africa. She used to make them with cabbage leaf or silic leaf (don't know the English name), as banana leaf was not available and would use chicken, eggs, in place of fish.
I make paturi with cabbage and any green leaf that can be folded, like leaf of pumpkin. This one I made with banana as it is available in London, but you can try with almost all edible leaf and actually can eat the leaf. You can also use fish, prawn, eggs, fish row, paneer, potatoes to make paturi. Hope you enjoy the recipe and the experience of making it.
1kg Chicken (mine was mixed of leg and breast. You can use anything it won't make any difference)
1 onion (large not very big)
4 Kashmiri chili (for colour and aroma)
1 teacup grated fresh coconut
1 table spoon poppy seed (posto)
2 table spoon mustard oil
Green chili as per taste (for hotness I didn't use any as my daughter will eat it too)
Aluminium foil (in case you are as bad as me in wrapping the banana leaves)
1.
Wash chicken and marinate with ginger and garlic paste
2.

    
In a mixer make a paste of Kashmiri chili, coconut, poppy seed, green chili, onion
3.

    
Mix the paste with marinated chicken
4.

    
Now add salt and oil
5.

    
Keep aside for 30mins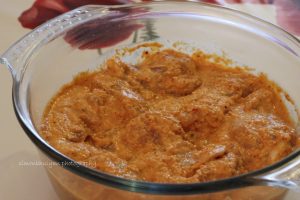 6.     Take the banana leaf and wash it thoroughly
7.     Now put the washed banana leaf over fire for few seconds at a time. You need to do this process to the full leaf on each side. This is to make the leaf soft and easily foldable.
8.     Once the banana leaf is soft, arrange the marinated chicken on it and fold to cover the full chicken (you should be able to close both sides)
9.     Now my mother can fold in a way and then tie using thread made with banana leaf that not a single drop comes out of the packet. But I am not good with folding. I fold the chicken in the banana leaf tightly and then fold it in an aluminium foil. This way I still get that burned banana leaf smell from my paturi.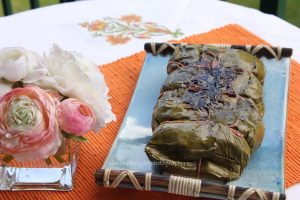 10.
Smear a tawa with oil and place the banana leaf parcel on it and place on heat
11.
Let it cook in low heat for 30mins, by then some water will come out. Let it dry and then turn to other side
12.
Continue to keep on low fire for another 30mins and then turn off the fire
13.
Serve the paturi with oiled white rice or eat it on its own as starter.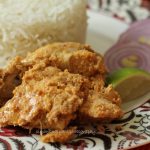 Related
---
---